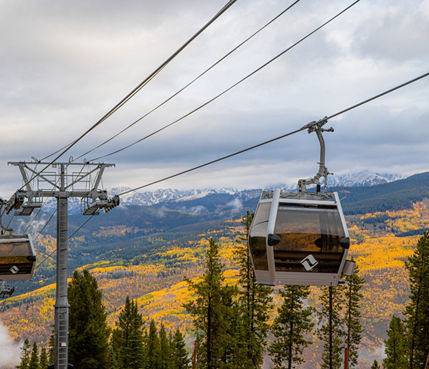 The autumn season comes with endless opportunities to enjoy the crisp air and a colorful fall atmosphere. With the leaves changing colors across the region, colors in Vail provide a magical vibe that will certainly get you in the fall spirit.


When is the Best Time for Peak Colors in Vail?

If planning a visit to see the fall foliage in Vail, you'll want to know the best time to catch peak colors and where to go for the best fall sightseeing.

Leaves change in Vail, Colorado around mid to late September, sometimes into the first week of October. The fall foliage is only at its peak color for about two weeks, typically in later September. Of course, the timing will depend on the location you plan to visit.

Mid-September to early October is the ideal time to see peak fall colors in Vail. Weather wise, its also a great time to visit for comfortable temperatures for outdoor activities. With an average high of 67 degrees Fahrenheit in Vail in September, fall weather is optimal for hiking, biking, and so much more.

1.) Hiking Trails for Vail's Fall Colors

Vail offers some of the most beautiful hiking trails in Colorado, perfect for viewing Vail's fall foliage. If you want a close-up view of Vail's unique fall colors, try the Berrypicker Hiking Trail. This trail is intermediate in difficulty, winding down from Mid-Vail or Adventure Ridge to Vail Village or Lionshead.

The Berrypicker Hiking Trail is about 3 miles one way, requiring about two to three hours to complete (one-way). Throughout the hike, the aspen groves give you a great view of fall colors. The Berrypicker Hiking Trail offers a great chance to get those "up close" photos of changing yellow leaves and white tree trunks.

If you'd like to try the Berrypicker Hiking Trail but can't commit to a lengthy hike, when the Gondola is running you can take the scenic gondola ride up or ride down for free. Note that downloading the Scenic Gondola is free, and a paid ticket is required for two way travel.

For an easier hike, the Gore Valley Trail is another great option to see fall foliage in Vail, Colorado. This easy, out-and-back trail is about 2.8 miles in length with an entirely paved path. This hiking trail can also be used for biking if preferred and can accommodate visitors with pets too. The Eagle's Loop is another excellent option for an easy hike, with access from the top of the Eagle Bahn Gondola.

2.) Horseback Riding in Vail

If hiking is not your thing, consider catching the scenic fall foliage via horseback riding instead. The nearby Vail Stables or Beaver Creek Stables offers unique horseback riding experiences, perfect for exploring the region and stunning fall foliage. What's great about horseback riding in Vail is that first-timers and experienced riders can all participate, with guided tours for every experience level.

One-hour, two-hour, and lunch packages are available for your horseback riding tour. If you've never tried horseback riding before, you'll get the chance to try something new while also checking out the fall colors in Vail.
Be sure to check the schedules well ahead of time, the stables operate seasonally and busy weekends fill up ahead of time.

3.) Fall Mountain Bike Rides in Vail
Thrill-seekers will find plenty of exciting mountain bike trails to explore during a fall visit to Vail. Before your visit, check out the Vail Mountain Bike Trail map to find trails of all difficulty levels and lengths. Visitors can purchase a Bike Haul pass, which offers access to the gondola and dozens of Vail's best mountain bike trails. Mountain bike riding is one of the most thrilling ways to see Vail fall foliage in a hands-on way.

For visitors traveling as a family, the Side Kick to Golden Gate trails are the easiest. Golden Gate has a ton of aspens, hence the name. This is one of the best fall rides in Vail for viewing the changing leaves of the aspen trees.

4.) Scenic Fall Drives Near Vail

Need a break from hiking, biking, and other outdoor activities? The stunning colors of the changing leaves in Vail can be enjoyed on one of Vails best scenic drives. The Top of the Rockies Scenic Drive starting from nearby Minturn on Highway 24 to Leadville is a must do fall scenic drive. Spend about an hour driving from Minturn to Leadville through an amazing valley up and over Tennessee pass with mountain viewing the entire way. There are plenty of chances to see aspens in full glory. Pass by the Camp Hale National Monument and stop in the historic town of Leadville for food and sightseeing. For an even longer drive, plan a full day and continue on to drive over the famous Independence Pass south of Leadville, a fully paved drive with winding roads and steep cliffs lined with aspens. This thrilling, all-day drive features beautiful views of fall colors and mountain vistas across a lengthy route.


Taking Great Photos of the Vail Fall Foliage
You'll want to be sure to capture and share your fall experiences and breathtaking views of Vail in the autumn. Check out our post on
taking photos of the fall foliage
for tips. You'll want to consider the lighting to capture the best photos. If Instagram-worthy photos are your goal, it may be useful to head out during the early morning hours or in the late afternoon for those perfect "soft feel" photos without too much direct sunlight.
Plan Your Visit to Vail, Colorado in the Fall
Cross a fall visit to Vail, Colorado off your bucket list with a visit to check out the stunning fall foliage. Vail's many hiking and biking trails offer the best way to see fall colors in Vail up close. Or, try horseback riding or a scenic car ride through the mountains for a unique way to capture the views.
Consider visiting in mid to late September or early October for the best views of the fall colors. Plus, during your visit, be sure to check out these
other fall activities
taking place around Vail.
Book your lodging
and start planning your fall adventures today!