HIKING
Vail summer activities offer miles of scenic hiking trails for all ability levels. Explore the wildflowers, catch a glimpse of wildlife, and enjoy the amazing views of the surrounding mountain ranges. Vail Mountain offers numerous hiking trails to be explored, both by foot or by Gondola.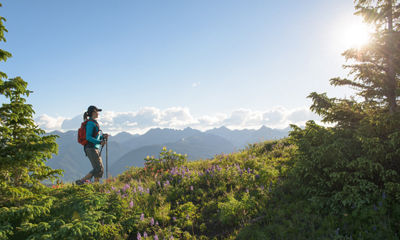 Vail Mountain and Gondola Accessed Trails
Vail Mountain is a great place to enjoy a hike, with trails starting from the base areas as well as the top of Gondola One and Eagle Bahn Gondola (#19).
If you are planning on taking the scenic gondola ride up the mountain to hiking. Purchase your scenic gondola ticket below!
Below, learn about our trails and find the right hike for you! Before you go, download the Vail Summer Trail map.
Please note portions of trails may be closed or rerouted throughout the summer, and we ask that you follow all posted signage.
Easy & Moderate
Join a Walking Mountains Naturalist for an educational hike through the forest atop Vail Mountain beginning at the Nature Discovery Center. For those looking for a more adventurous time, join us for a more strenuous, 2-mile guided hike beginning at the Nature Discovery Center to explore our mountain ecosystems.
Previous tab
Previous tab
VAIL TRAIL DESCRIPTIONS
EPIC DISCOVERY INTERPRETIVE TRAILS
| TRAIL NAME | DIFFICULTY | DISTANCE (MI) | ELEVATION GAIN (FT) |
| --- | --- | --- | --- |
| MEADOW LOOP | EASY | 2.1 | 482 |
| GRAND ESCAPE | MODERATE | 1.3 | 643 |
| KINNINKINNICK | MODERATE | 1.2 | 733 |
| PTARMIGAN LOOP | MODERATE | 1.0 | 119 |
| RIDGE ROUTE | MODERATE | 1.3 | 648 |
| STRAWBERRY LANE | MODERATE | 1.3 | 717 |
| SUNLIGHT | MODERATE | 0.8 | 304 |
| CABIN TRAIL | MODERATE/DIFFICULT | 2.1 | 1,600 |
| BERRY PICKER | MODERATE/DIFFICULT | 3.2 | 2,200 |
HIKING TRAILS
| TRAIL NAME | DIFFICULTY | DISTANCE (MI) | ELEVATION GAIN (FT) |
| --- | --- | --- | --- |
| MEADOW LOOP | EASY | 2.1 | 482 |
| GRAND ESCAPE | MODERATE | 1.3 | 643 |
| KINNINKINNICK | MODERATE | 1.2 | 733 |
| PTARMIGAN LOOP | MODERATE | 1.0 | 119 |
| RIDGE ROUTE | MODERATE | 1.3 | 648 |
| STRAWBERRY LANE | MODERATE | 1.3 | 717 |
| SUNLIGHT | MODERATE | 0.8 | 304 |
| CABIN TRAIL | MODERATE/DIFFICULT | 2.1 | 1,600 |
| BERRY PICKER | MODERATE/DIFFICULT | 3.2 | 2,200 |
Hiking Trails Surrounding Vail
East Vail Area Hikes
Bighorn Creek
Booth Creek
Deluge Lake
Gore Creek
Pitkin Creek
North Trail Sections
Cortina Lane to Buffehr Creek
Buffehr Creek to Red Sandstone
Red Sandstone to Son of Middle Creek
Trappers Run
Red Sandstone Road Acessed Hikes (Not on free bus route, require short drive up Red Sandstone Rd.)
Upper Piney River
Lost Lake