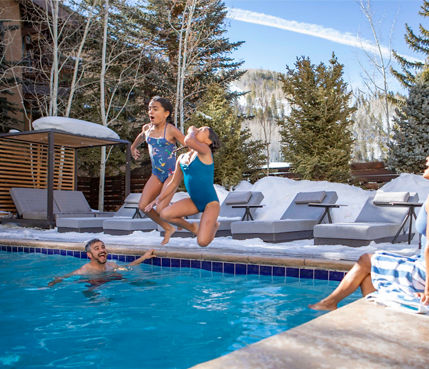 Are you crossing Vail off your bucket list of travel destinations? No matter what season you visit Vail, fun, adventure, and relaxation await you. After you experience the thrill of the slopes, it's only natural to want the perfect atmosphere to relax in luxury. After a day of mountain activities, there's no better way to relax than an evening by the pool!

Whether you're looking to plan an entire wellness day into your Vail trip itinerary or want to go for a quick swim, these Vail hotels with pools won't disappoint. Below, explore the best five Vail lodgings with pools to consider for your next visit.


Sophisticated Vibrancy at The Hythe

Located in the Lionshead Village portion of Vail, The Hythe, a Luxury Collection Resort, is among the best Vail hotels with pools. No matter what season you visit, visitors can enjoy the year-round outdoor pool surrounded by lush trees and a classic mountain landscape (the pool at The Hythe is heated during the cooler months).

With the Rocky Mountains in the back, this luxury pool is perfect for a relaxing afternoon or evening after a day on the slopes. In addition to the year-round outdoor pools, guests can also enjoy the spacious hot tub. If you want to enhance your wellness experience even more, check out the full-service Well & Being Spa. This spa offers luxury full-body massages, salt therapy treatments, and other wellness experiences.

In addition, the Hythe has recently undergone total renovation, creating an elevated and modern space to welcome guests. After a dip in the mountain-side pool, don't forget to check out the vibrant Après deck. The Après deck is perfect for catching live music, gathering around the fire pit, and enjoying seasonal live music for a perfect mountain evening.


Old-World Charm at The Lodge at Vail

Experience old-world charm when you visit The Lodge at Vail, the first hotel built in Vail. This iconic tourist destination is located right at the base of Vail Mountain's Gondola One, providing easy access to all activities in Vail Village. The Lodge at Vail is a perfect choice for visitors seeking a dip in the best pool in Vail, offering a spacious outdoor pool for every type of guest to explore.

In addition to the spacious pool at this popular Vail lodging spot, guests can dip in two hot tubs. The pool and hot tub area is adjacent to the pool lounge, offering a bar and firepits to complete your poolside experience.

Want to see the pool at The Lodge at Vail for yourself? Check out the virtual tour to explore the pool at this legendary resort. When you're done with your relaxing day by the pool, guests staying at The Lodge at Vail are just a few minutes' walk from all of Vail Village's shops, dining, and nightlife happenings.


Experience Lionshead Village from the Arrabelle

Located in Vail Square in Lionshead Village, the Arrabelle offers great accessibility to the Eagle Bahn lift. This luxurious hotel offers a private pool atmosphere situated on the roof, complete with spacious hot tubs. In addition to luxury and relaxation, the rooftop pool offers incredible mountain views that can't be found elsewhere in the surrounding villages.

Not to mention, a stay at this popular Vail lodging destination leaves visitors only a short walk from Vail Village, with dozens of shops, restaurants, and markets to explore. This five-star hotel location also offers comfortable and luxurious rooms, outstanding customer service, and some of the best food in all of Vail Square. You can't go wrong with a stay at the Arrabelle.


Slope-Side Living at the Antlers at Vail

Vail guests traveling with families or groups enjoy slope-side living at the Antlers at Vail. These rentable condominiums offer exceptional accommodations, including a heated outdoor pool, hot tub, and sauna that is perfect for relaxation. Each rentable condo offers a full kitchen, balcony, fireplace, and other essential slope-side amenities that create the ultimate mountain experience.

Located just 150 yards from the ski lifts in Vail, Colorado, your travel group will enjoy a perfect blend of thrilling adventures and relaxing experiences while staying at the Antlers at Vail. The creekside deck surrounding the pool area is designed to soak up the Colorado sunshine, offering a serene atmosphere for the whole family. Even better, this lodging spot sets itself apart from all Vail hotels with pools by offering comfortably heated walkways surrounding the pool area.

After your pool day, change in the comfortably heated changing rooms before heading on your next Vail excursion. After a fun-filled day filled with Alpine adventures, there's no better place to relax than this best pool in Vail.


Top-Tier Amenities at Grand Hyatt Vail

Visitors seeking top-tier amenities, including the best pool in Vail, won't want to miss an opportunity to stay at the Grand Hyatt Vail. Here, guests can enjoy the creekside heated infinity pool and two hot tubs for the ultimate luxury experience. This Instagram-worthy outdoor saline pool is surrounded by spacious lounge chairs, perfect for reading a book or listening to a podcast while relaxing poolside. To enhance your visit, guests can also rent cabanas surrounding the pool that can accommodate groups.

Not only is the Grant Hyatt Vail amongst the best Vail hotels with pools, but it is also known for its renowned spa experience. The Spa at Grand Hyatt Vail is perfect for enhancing your wellness experience, complete with Swedish massages, mud bath experiences, and so much more. With a picture-perfect mountain background and top-tier amenities, it's no question why the Grand Hyatt Vail is amongst the most popular attractions for visitors seeking a dip in the best pool in Vail.



Find Relaxation with the Best Pools in Vail
With so many options of Vail hotels with pools, finding the best pool in Vail is easier than it sounds. Vail's exceptional lodging locations offer a pool suited to every traveler's needs, from families to luxury solo travelers. The bar and fire pit area at The Lodge at Vail offers the quintessential mountain poolside experience, whereas the outdoor infinity pool at the Grand Hyatt Vail provides luxury.
No matter what your idea of relaxation entails, your perfect Vail getaway awaits you. Explore
Vail's hotels, condos, and vacation rentals
to get started. Our
help center
offers answers to frequently asked questions you may have while booking your accommodation. Or, contact our booking center for assistance finding the best Vail hotels with pools for your visit.