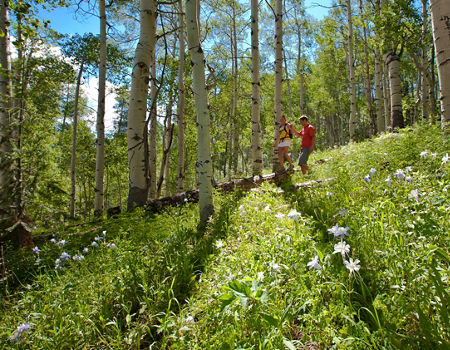 Colorado family vacations to the mountains are all about experiencing the great outdoors. If you're visiting the Vail area, you're in a great spot for experiencing the mountain scenery on a hike. Don't be hesitant to venture out on the trails if you have kids, there are plenty of easy hikes near Vail for you and the young ones to enjoy.

Explore some easy hikes near Vail in the morning and head back to the resort for a round of golf, a spa afternoon, or fun with the kids on a Scenic Gondola ride. The choice is yours!

1. Upper Piney River Falls Trail

If you'd like your pet to accompany you on the hike, the Upper Piney River Falls Trail is perfect. Dogs are welcome as long as they stay on a leash during the 5.9-mile roundtrip hike.

The trail is moderately challenging, and it takes roughly two and a half hours to complete this Vail easy hike. Along the Upper Piney route, you'll encounter other revelers enjoying activities like horseback riding as they explore the area.

The trail is about 12 miles from Vail, and it takes about 45 minutes to get there by car.

2. Vail Nature Center/Betty Ford Alpine Gardens

When it comes to easy hikes near Vail that your kids will love, try Betty Ford Alpine Gardens at the Vail Nature Centre. To make things interesting, pick up a kid's treasure hunt map upon arrival to give the young ones a sense of adventure.

With minimal elevation, hiking this trail will feel like an ordinary stroll. However, should you need to take a break, there are educational exhibits to nourish your mind. Alternatively, head to the creek to cool off or to the playground for fun and games.

The Vail Nature Centre is only a half mile from the resort, and you'll get there in a few minutes on foot.

3. Gore Creek Path

Spanning 1.8 miles and with an elevation gain of only 209 ft., Gore Creek Path is one of the best easy hikes near Vail for families. This beginner-friendly trail suits people of all ages and skill levels, and you can expect to spend around 40 minutes hiking.

You can easily get to Gore Creek Path via driving, walking, or cycling, as it's less than half a mile away from the resort.

The best thing about the Gore Creek Path is that it leaves room for other activities during the day. Since it's not far from the resort or physically taxing, you'll have plenty of time and energy left afterward.

4. Shrine Ridge Trail

Aside from the adventure, the view is what makes Vail hikes for the family so fantastic. While plenty of trails offer scenic views, the Shrine Ridge Trail stands out. Along this route, you'll get a perfect view of Colorado's wildflowers against the rugged beauty of the Rocky Mountains.

Hiking Shrine Ridge Trail won't consume your entire day, either. Plan for around two hours to explore this natural masterpiece and capture the essence of the region's alpine splendor. Plus, it's located about 30 miles from Vail, promising a scenic drive and a day of exploration you won't soon forget.

5. Village Streamwalk and Botanic Garden

Combining a gentle hike and a peaceful retreat is a great way to spend the afternoon, especially if you have toddlers. For such hikes for families, choose the Village Streamwalk and Botanic Garden, a hidden oasis that offers serenity and natural beauty.

With a moderate elevation of 65ft., you'll need around an hour to hike this 1.3-mile trail. However, consider dedicating more time to the hike, as the area has several picnic spots where you can eat and relax while listening to the soothing sound of flowing water.

Plus, the botanic garden features informative signs that offer great tidbits about the region's ecology. Since it's only a half-mile from the Vail Resort, you can get there in a few minutes.

6. Bowman's Shortcut Trail

If your kids are in their teens and your family prefers a moderately challenging hike, you should try the Bowman's Shortcut Trail. It stretches 5.5 miles and has an elevation gain of 1,026 ft. that will take you close to three hours to complete.

Beyond the adventure, this route is also rich in history, as you'll be walking the path early settlers carved through the mountains. With the area's lush forests and meadows, you'll also enjoy stunning views.

This trail is 19.5 miles from the resort, meaning it's only a half-hour drive away. You'll want to set aside at least four hours for the trip and hike. Bring your dog if you have one! They'll love the off-leash areas.


Free Guided Hikes in Vail, Colorado
Aside from the adventure, hikes are a great way to immerse yourself in nature and learn the area's history and heritage. Why not take advantage of free guided hikes in the area?
The
Walking Mountains Science Center
offers educational nature walks led by a passionate naturalist. Some free guided hikes that take place in Vail include:
7. Nature Walk
A naturalist will take you on a tour of aspen groves and riverside ecology at the center's Avon location. These guided hikes in Vail, Colorado, are suitable for all ages. As you explore the area, you'll learn about animal adaptations in the mountain environment.
The experience, views, and interesting facts you'll learn along the way make this an excellent option for young, energetic kids eager to learn more about the world around them.
8. Early Bird, Bird Walk
For bird enthusiasts, these easy hikes for families in Vail are the perfect choice. The objective of the walk is to search for native bird species while learning about birding and bird identification.
Besides the enjoyable family-friendly hiking experience and bird knowledge, you'll love exploring meadows, forests, and riverside areas. Remember to check the availability for these easy hikes in Vail since days and times may change.
A Treasure Trove of Activities
Depending on your experience and preference, numerous hikes near Vail will suit you. There's something for everyone, from trails with historical significance to paths that offer spectacular views of the region's beauty.
But the fun doesn't stop after the hike. You can return to the Vail Resort afterward for more summer fun or unwind and enjoy
Vail's dining choices
.
Book your stay at the Vail Resort to access our
fun-filled, family-friendly activities
.