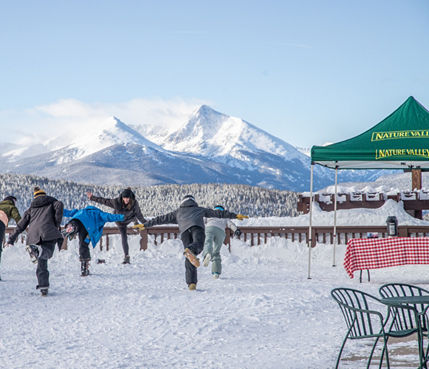 The most popular times to visit Vail, Colorado include the winter and summer months, but there are fun activities available year-round. While Vail is known as a top skiing destination, visitors will also find stellar restaurants, exciting activities, and educational opportunities. From a walk through the stunning Betty Ford Alpine Garden to a day at the spa, you'll never get tired of exploring Vail. Here are some of the top activities in Vail, Colorado, when you're not skiing or snowboarding.

Hiking & Snowshoeing Trails

While Vail is known for many skiing activities, hiking trails are the perfect activity in late spring, summer and early fall. If you're looking for a winter hike, consider snowshoeing!

Several warm-weather trails start at the base areas of Vail Mountain, as well as the top of Gondola One and Eagle Bahn Gondola (#19).

Another great option is a guided educational hike at Walking Mountains Science Center. This 2-mile guided hike explores the mountain ecosystems of Vail, offering stunning views and top-notch educational content.

Before your trip, check out the full list of Vail Mountain trails, organized by difficulty. While you're at it, bring along a copy of the Vail Hiking Guide for ideas. No matter which hiking trails you pick, you'll find gorgeous views of waterfalls, forests, mountain streams, and mountain vistas.

Betty Ford Alpine Garden

Don't miss out on the Betty Ford Alpine Garden while visiting Vail. This garden is one of the best activities in Vail, Colorado, that everyone can enjoy. Known as one of the world's highest botanical gardens, Betty Ford Alpine Garden features stunning floral displays at 8,200 feet in elevation. While roaming these gardens, you'll find areas featuring fabulous florals, waterfalls, and natural landscapes.

Before you head to Betty Ford Alpine Garden, check out their events and seasonal happenings. The garden offers various workshops, presentations, and exhibits to give you even more of a reason to visit.

The Lodge at Vail

Visit the Lodge at Vail year-round for a pampering spa experience. The Lodge features every spa treatment imaginable, from massage rooms to whirlpools.Within the 3,500-square-foot fitness complex, The Lodge at Vail offers studios for yoga, stretching, and pilates, plus a fully equipped gym. When you're done with the spa or the gym, sit outside at Cucina for some live music and cocktails! Cucina is a relaxing place to enjoy live music all year long.

Colorado Snowsports Museum and Hall of Fame

If you're a ski enthusiast visiting Vail, Colorado, you'll want to check out the Colorado Snowsports Museum and Hall of Fame. This museum is home to artifacts that tell stories about the origins of snowsports in Colorado and beyond. The exhibits are frequently changing too, so there's always something new to learn each time you visit.

Check out the Hall of Fame too, which recognizes more than 200 athletes and sports officials who have played a vital role in snow sports. If you're a true ski lover, you'll appreciate this unique museum.

Vail Brewing Company

Nothing says "vacation" like a brewery stop. The Vail Brewing Company, or VBC, is a great place to stop for a beer crafted at 8,000 feet. The Vail Village Tasting Room offers many beer varieties on tap in a relaxed atmosphere right in the center of Vail Village.

Dining

Vail has no shortage of top spots to grab a bite. Whether you're looking for something quick on the mountain or an upscale evening in town, there are mouthwatering options at every turn. Feeling like some fried chicken? Try The Coop. Want a fine dining experience complete with wine? Head to Elway's. There are countless Vail restaurants to explore during your visit including outdoor and patio dining in the Summer..


Experience Vail for Yourself
Getting excited about all of the fun activities Vail, Colorado, has to offer? Although you may always visit in the peak season, the area has so much to offer year-round.