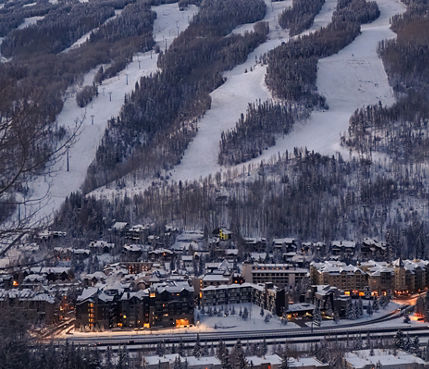 Every skier knows Vail as a top destination. However, if you're admiring the stunning landscape as a non-skier, wondering what to do in Vail, you're not alone. Not everyone who comes to Vail is here to ski or snowboard.

If you don't ski or ride, you'll still find dozens of fun-filled winter activities and experiences throughout our beautiful mountain town.

Try Fat Tire Biking

Guests visiting Vail who don't ski or snowboard often love fat tire biking because it offers a fun activity that is still challenging!

If you're visiting between November and March, you'll find fat tire bike rentals available at the Vail Nordic Center. Unlike traditional bicycles, fat tire bicycles ride great in the snow due to their thick tires, wide rims, and extra stability. The Vail Nordic Center offers an 8-mile path perfect for fat tire biking, and lessons and day passes are available.

A Day at the Spa

Rejuvenating spa treatments are appealing to both non-skiers and skiers alike. The RockResort Spa at The Arrabelle offers an elegant atmosphere with dozens of treatments. You'll find several massages, dry treatment rooms, steam rooms, and other pampering experiences. If you're looking to pamper yourself further, the RockResort Spa also offers a full-service nail salon and whirlpools.

Traveling with other people that will be hitting the slopes all day long? Schedule your spa services at RockResort Spa for a relaxing day of self-care instead of skiing. You don't need to stay at the Arrabelle to take advantage of this fantastic spa. If this spa is booked, check out the spas at The Lodge at Vail or The Hythe.

Beer and Wine Tasting

Are you looking for a relaxing activity for a cold day? Try a wine tasting at Root & Flower, a modern wine bar in Vail. Not only does Root & Flower offer a wide variety of wines available by the glass, but they also specialize in fun cocktails and beer. Every person in your group will find a drink that appeals to their tastes at Root & Flower.

In addition to wine by the glass, Root & Flower offers several wine-tasting classes allowing you to try even more flavors.

Browse Art in Lionshead and Vail Village

Take a walk around Lionshead and Vail Village, and you'll find beautiful art. Check out the art in public places map which includes more than 55 murals, sculptures, paintings, and more. As you check out these art installations throughout Vail, you'll also learn some great history about the town.

One of Vail's most notable art installations, the Rocky Mountain Majesty, is a must-see for nature lovers. This bronze sculpture was donated in 1990 by an avid outdoorsman to the town. As you spend your day exploring the 55 different art installations, stop in the many boutiques and shops along the walking path of Vail's villages.

Need a warm beverage as you spend the day outdoors? Vail also has unique coffee shops worth checking out. Visit the Two Arrows Coffee Bar for a delicious latte to warm you up. Try one of their unique coffee cocktails if you want something a bit stronger.

Ready to schedule your dream Vail, Colorado vacation? Browse the many lodging options Vail offers to find your perfect place to rest and relax. Need help booking or have questions? Reach out to our team, and we'll be happy to assist you in mapping out your Vail getaway.