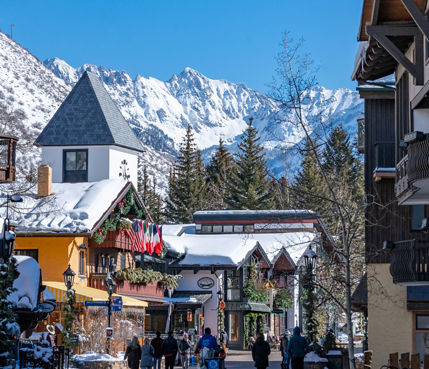 Looking for the perfect January travel destination? Look no further! We're thrilled to announce that Vail, Colorado has been recognized by Travel + Leisure as one of the "10 Best Places to Travel in January 2024." This prestigious mention recognizes Vail as a prime destination for your winter trips and travel plans.
Why Vail in January?

Vail truly shines in the winter, making January the ideal time to experience this picturesque winter wonderland. Whether you're a snow sports enthusiast or someone seeking the perfect winter escape, visiting Vail in January has something for everyone.

Varied Terrain:

With nearly 200 trails, Vail is a paradise for skiers and snowboarders of all levels. The stunning alpine landscape offers something for every winter sports enthusiast, from gentle slopes to challenging runs, and the Legendary Back Bowls skiing and riding experience.

Après-Ski Options:

Vail is not just about the slopes; it's also renowned for its après-ski scene. After a day on the mountain, unwind in the charming village with world-class restaurants, shops, and cozy cafés, offering the perfect setting for post-ski relaxation.

Luxurious Lodging:

Vail boasts a selection of luxury hotels that provide the very highest standards for a warm and welcoming atmosphere with top amenities and ease of access to the slopes. Stay in the quaint pedestrian friendly Villages in style at the Grand Hyatt Vail, The Arrabelle, The Lodge at Vail, Antlers at Vail, or The Sebastian-Vail, ensuring your visit is as comfortable and opulent as it is memorable.

Public Art Collection:

Explore Vail's rich culture through its public art collection, featuring paintings, sculptures, and murals. Take a leisurely stroll through the Villages and immerse yourself in the many local galleries, with artistic charm that adds another layer of beauty to this already picturesque location.

But remember, Vail isn't just a January destination. Beyond the snow and the prime winter season, Vail offers year-round attractions and experiences. From hiking in the summer to enjoying the vibrant fall colors, Vail is a world-class travel destination that has something to offer every guest at any time of the year, and during the Colorado ski season.
Plan a Visit to Vail This January
So, if you're considering a winter escape or planning your January 2024 travel adventures, make Vail, Colorado, your top choice. Start your year with an unforgettable experience in Travel + Leisure's "Best Place to Travel in January." We can't wait to welcome you to our breathtaking winter paradise!
Wherever your January takes you, let it be the beginning of a year filled with incredible travel experiences. Start your journey by making Vail your destination of choice.
Prepare for your winter trip to Vail
today, and let the adventure begin!