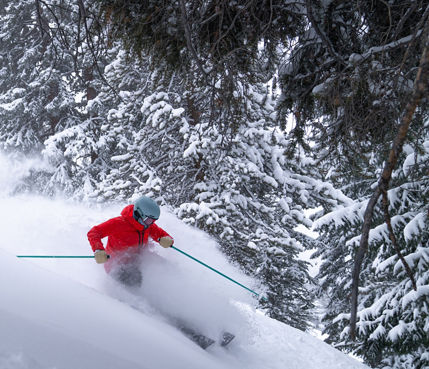 Nestled within the majestic Rockies, Vail epitomizes alpine grandeur and is a skiing haven for seasoned experts. The largest resort in Colorado covering 2,141 hectares, Vail Mountain offers the discerning skier unparalleled offerings for terrain, and is renowned for its legendary slopes that unleash an extraordinary world of adventure, challenge, and breathtaking beauty.

Vail has much to offer advanced skiers for a unforgettable skiing experience with almost 200 advanced ski runs from blue to double black diamond to make your skiing holiday outstanding. Unmissable black diamond and double black diamond Vail ski trails can be found all over the resort, but you'll want to check out these areas where the local's ski in the Back Bowls, Blue Sky Basin, and the on Front side.


The Steep and Isolated Siberia Bowl
The Siberia Bowl is one of Vail's legendary back bowls, set right on the edge of Vail's vast terrain. Full of cliffs and ridges, the Siberia Bowl is ideal for conquering on powder days.
Rasputin's Revenge
Head to Rasputin's Revenge for one of the locals' favorite runs and revel in the quiet of these less populated areas of the resort. This 1,818 ft long run is exclusively for expert skiers looking to push out of their comfort zones, so expect advanced to expert level terrain. You'll encounter some rocks and trees, but for the most part this is an open run that is not to be missed.
Take the Orient Express Lift (Chair #21) to get to the trailhead. Be prepared for a short uphill walk to get to Rasputin's Revenge – it'll be worth it.
The Varied Terrain of Sun Down Bowl
The Sun Down Bowl has much to offer for various levels of skiers, but for advanced and expert skiers, it's a special treat. The expert runs here don't see a lot of traffic, so you might get lucky and find untouched powder even on the busiest of days.
Never
Like to ski tree runs? Don't sleep on Never. This steep, well-protected trail is best on days with deep powder. If it's a really deep snow day, don't be tempted to go right at the end of the trail – stay on the ridge and enjoy a superior ride. There is a small stream at the bottom of the run, so just be mindful the first time you try out this hidden gem.
O.S.
Another local favorite to tackle is O.S., named for what skiers would yell in the old days when it was easy to get caught up in the thrill of this trail and miss the lift ("Oh, S***!). These days, this 3,343 ft black diamond is easily accessed by the Sun Down Express Lift. Enjoy wide stretches of steep terrain, often with some of the best powder that comes in gusts from the west.
The Exhilarating Blue Sky Basin
Blue Sky Basin gives you ample opportunity to experience the backcountry while still being within the boundaries of the Vail resort. Breathtaking 360 degree views of the peaks of Vail Pass greet you while you explore some of our best expert terrain.
Lover's Leap
Although it's only half a mile long, Lover's Leap is one of the best expert runs in the
Blue Sky Basin
. The black diamond Vail trail offers a steep 758-foot drop from 11,096 feet to 10,335 feet. The trail makes up for its short length by having you start your run by leaping off a cornice onto a 34-degree slope with huge boulders.
While wind and snow conditions determine the size of the drop-off, you're guaranteed a good amount of air time. If the snow is deep enough, you can enjoy high-speed drop-offs from the boulders peppering the steep pitch.
Lover's Leap is easy if your skills are up to scratch. It only takes one lift ride, Chair 37, to reach the top. The trail is visible from the chair, so you can scope your line before each run. The ski run is accessible from Chair 38 if you wish to push your limits.
Bonus:
After Lover's Leap, take Chair 37 back up and hit
Skree Field
. Littered with rocks and easy to spot cliffs, you'll finish the run in a beautiful open glade where you can enjoy the spectacular mountain vistas that the Basin is known for.
Expert Fun on The Front Side
The front side of the mountain holds many expert gems as well. With an easy approach and unique terrain offerings, start your day off here before heading off to the Back Bowls and beyond. This area is sometimes overlooked by advanced skiers in favor of the back bowls or Blue Sky Basin, but some fantastic expert skiing is right here in the front.
Test your mettle through the trees and cliffs of the Northwoods and be sure to take a run on Vail's longest expert run, Riva Ridge.
The Leg-Burning Riva Ridge
Almost four miles long,
Riva Ridge
is Vail Mountain's longest single-run ski trail and is fun from top to bottom. This classic run is a mix of intermediate and expert sections and is great for those looking to try their skills on more advanced terrain. Riva Ridge is accessed from the Mountain Express Lift and the top of Chair 4. Starting at the peak of Vail's front side, the trail drops 3,000 feet from 11,250 feet to the base of the Gondola One.
Riva Ridge starts as a groomed blue trail with panoramic views and alternates between blue and black sections with steep pitches, moguls, and narrow areas leading up to its most famous section. Aptly named the Tourist Trap, this is a tight, heavily moguled funnel that has caught less-skilled skiers by surprise.
Riva Ridge is popular for its exhilarating descent to the base area, spectacular views, and a sustainable fast pitch that'll leave your legs burning, and a smile ear to ear.
The Legendary Northwoods
Warm up on Northwoods, the fast-moving namesake blue run, then try out Northstar for a groomed black diamond before moving onto the Rims. North Rim and South Rim are often left untouched – hop on North Rim for a large cliff band and some of our most quality powder.
You can get to the
Northwoods
on the Northwoods Express (Chair 11). On the ride up, keep an eye out for fellow skiers under the lift line, where there are some gnarly cliffs and rocks to play on.
If you're traveling with skiers of varying levels, an added perk of Northwoods is that there is plenty of gentler terrain for less experienced skiers to enjoy while you get to ride some of our most challenging runs.
Maximize Your Powder Days
Book your stay
at Vail Resort and experience some of the best expert skiing in Colorado. Grab an
Epic Pass
for the best value and get ready to enjoy excellent powder days while pushing yourself to the limits on Vails advanced terrain.