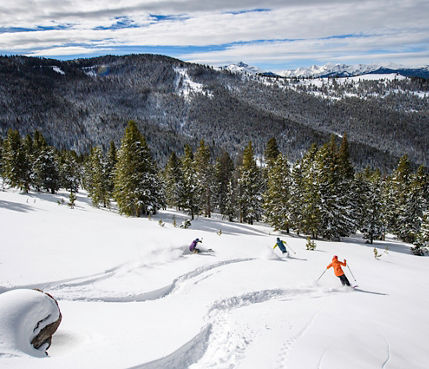 There are few better ways to spend a family vacation than hitting the slopes in the Rocky Mountains, but knowing when to visit for the best skiing or snowboarding can feel like a challenge for those who don't live in or frequent the area. So, how long is the Colorado ski season, and when is the best time to visit? It depends on the weather, but most years, it's safe for skiers and snowboarders to book a vacation sometime between late November and early April, although the terrain will be more limited towards the start and end of the season.

Need more information? Browse through these common questions and answers about the best time to ski and snowboard in Colorado, and find the information you need to book a luxurious winter getaway in Vail, Colorado.

1. How Long Is the Colorado Ski Season?

Compared with that of other winter locations across the United States, Colorado's ski season is among the longest. While the weather each year determines the exact length of the season, it ranges anywhere from four to seven months long, giving visitors to Vail plenty of time to access the epic beauty of America's Rocky Mountains.

2. When Does Ski Season Start in Colorado?

Knowing went to time your visit for the best skiing and snowboarding conditions can make your vacation even better. The great news is that the Rocky Mountains typically see snow long before other parts of the country, which means the ski season in Colorado often starts in mid to late November. The best fresh powder can generally be found from mid-December onward.

3. When Does Ski Season End in Colorado?

Just like the beginning of Colorado's ski season, the end of it depends on weather. Often, skiers and snowboards can hit the slopes until into April, but some resorts may remain open into early May if conditions allow. Visiting at the end of the Colorado ski season gives skiers and snowboarders a unique experience, as they get to hit the slopes in slightly warmer weather, and enjoy a wide range of fun end of season events.

4. Can You Plan May Skiing in Colorado?

While it's not unheard of to ski in Colorado in May, it's best to wait to plan May skiing in Colorado until after checking weather and mountain reports for the month. Most years, Vail closes for skiing and snowboarding in April and by May, locals and visitors have moved on to spring and summer activities. Of the Epic Pass resorts in Colorado, Breckenridge typically stays open well into May and is a favorite for spring skiing.

5. Can You Ski in Colorado in June?

Vail and Colorado's Epic Pass resorts are typically closed for winter sports once June rolls around, but that doesn't mean visitors can't enjoy the area.

The town of Vail features plenty to do in the spring and summer, including ziplining, gondola rides, and horseback riding. Those visiting with children can enjoy playtime at Sunbird Playground or the Children's Fountain, followed by a visit to Fuzziwig's Candy Factory, which features hundreds of varieties of sweets and treats for visitors of all ages.

6. What Is the Best Month to Ski in Colorado?

Although the regular ski season in Vail runs from November to April, visitors will likely find the best weather for skiing in January or February. After Christmas has come and gone, the slopes are quieter and the weather is prime for a great ski vacation. This is the best time to enjoy Colorado's warm winter sunshine, fresh powder, and adventure.

7. What Else Can I Do in Vail This Ski Season?

Visitors of Vail have plenty to do between ski or snowboard sessions. A trip to RockResorts Spa® at the Arabelle can help soothe sore muscles after a day on the slopes or before a day at the shops and a meal at one of Vail's premier restaurants.

Those who don't ski might want to try other winter sports, such as ice skating, snowshoeing, snowmobiling, and tubing. Alternatively, they can simply explore Vail's cobblestone villages, which feature various shops, restaurants, and activities.


Vail Is Colorado's Premier Ski Destination
People wanting a ski or snowboard vacation that caters to the luxurious lifestyle can find everything they're looking for in Vail. At Vail Resorts, guests can enjoy lush accommodations, rejuvenating spa experiences, and fine dining at more than 90 restaurants. Lessons and special events keep skiers busy throughout their stays, while those who prefer to stay off the slopes can shop and explore the picturesque Vail and Lionshead Villages.
Whether visiting during the long Colorado ski season or during the spring and summer months, opportunities for indulgence, luxury, and fun abound in Vail, Colorado.
Book a winter getaway online
and plan you for more details.