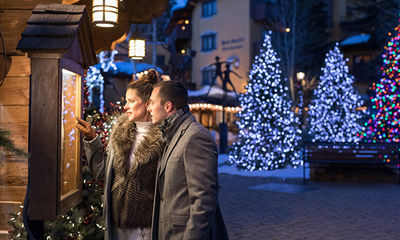 Vail is the premier place to browse, purchase, and explore. Stroll the heated cobblestone streets and discover your own little piece of Vail. Between Lionshead and Vail Village, Vail offers hundreds of shops from boutiques to outdoor gear to art galleries. Find the perfect cowboy boots or ski boots, jewelry and cocktail dresses, or apparel and art.

Located in pedestrian friendly outdoor environments set to the backdrop of the beautiful Gore Range and Vail Mountain, take a stroll around the town with the whole family. Convenient In-town bus routes allow you to explore both base villages within a matter of minutes.

Learn more about navigating the villages >

Vail attracts more and more luxury shops and shoppers each year, from high-end items such as jewelry, perfumes and furs to the new mountain styles that are as fashionable as they are comfortable and warm to wear. Vail classics such as Gorsuch, and newer arrivals like Arriesgado and Avalon, have both high and hot fashions, and outdoor specialty shops like Oakley, Patagonia and The North Face keep you geared up for any winter adventure.
Local Treasures

Enjoy all that Vail shopping has to offer. Take time to explore the bountiful boutiques and shops in downtown Vail. Find something for the whole family at Gorsuch, a luxury retailer and Vail tradition for more than 50 years. If you're looking for jewelry for that special someone (including mom), The Golden Bear is the place to go. Their signature design is known as "The Symbol" of Vail Valley and has been a mainstay since the store first opened in 1975. Stop by one of our Vail Sports retail locations to stock up on your favorite outdoor gear for both winter and summer.

Family Favorites

Cap off a day on the mountain together by uncovering all of the shops filled with sweets, treasures and trinkets for the whole family. Stop into Fuzziwigs, a quaint, colorful store where you can get lost in a world of delicious treats including candy from your typical treats to your more obscure brands and flavors. Adults will be feeling nostalgic to find candy from the past such as Clark Bar's, Zagnuts, and Red Hots!

Stroll down by Gore Creek beyond the international bridge to discover The Toy Store where your little ones will be sure to find toys, games and treats that are certain to delight. Be sure not to miss out on the Colorado favorite, the Rocky Mountain Chocolate Factory, filled with chocolate and candy treats that will greet your noses at the door!