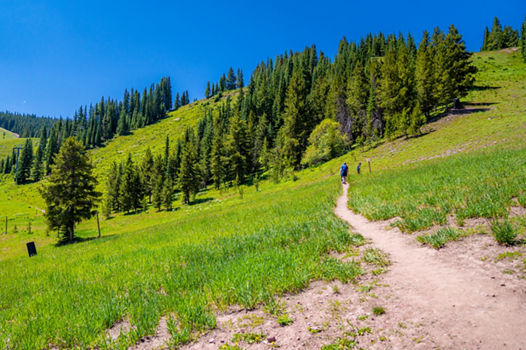 As the snow melts and the weather warms up, Vail is transformed into a summer playground, offering activities and events for visitors of all ages. Whether you're an adrenaline junkie, nature lover, or seeking some relaxation, Vail is the perfect summer escape.
1. Activities for Kids at Adventure Ridge
Perched atop Eagle Bahn Gondola, Vail Mountain's ultimate playground for your adventure kid awaits. With activities such as bungee trampolines, a kid's zipline, tubing and an alpine coaster, it's an excellent place to explore nature. Enjoy the breathtaking beauty of the mountains while getting an adrenaline rush that your kids will never forget. Learn more at Vail.com.
2. Hiking Vail Mountain
Hiking on Vail Mountain boasts over 20 miles of prepared hiking trails, while the surrounding area boasts more than 150 miles of hiking trails, offering hikers of all levels a chance to explore the stunning beauty of the Rockies. Whether you're looking for a leisurely stroll or a challenging hike, Vail has it all. For those who want to make the most of their time high up on the mountain to take in the panoramic views, take a scenic gondola ride up both Gondola One and Eagle Bahn Gondola to hike along Vail Mountain's miles of ridgelines.
3. Mountain Biking on Vail Mountain
Vail Mountain offers a Bike Haul service so you can enjoy more than 40 miles of mountain biking trails. Mountain Biking Vail Mountain is a mecca for freeride mountain bikers, with designated and challenging freeride trails. Want to explore more? The surrounding area offers over 343 miles of single-track trails that are perfect for all skill levels. From easy beginner trails to steep descents and jumps, Vail has something for every mountain biker. Rent a bike and hit the trails for an unforgettable adventure.
4. Golf

Golf enthusiasts can tee off at one of Vail's stunning golf courses, which offer challenging courses and breathtaking views. Whether you're a seasoned pro or a beginner, Vail Valley's golf courses are sure to impress. One of the most popular golf courses is located just 10 miles away at neighboring Beaver Creek Resort. The Beaver Creek Golf Club is nestled up to the winter slopes of Beaver Creek Resort and one of the valley's longest established courses. Learn more at beavercreek.com.

5. Summer Events

Vail also hosts a variety of events throughout the summer, ranging from live music concerts to culinary festivals. Be sure to check out the event calendar to see what's happening during your visit. Here are some of the can't miss events this summer:
- GoPro Mountain Games, June 8 – 11: The official kick-off to summer returns with this exciting fusion of adventure sports, art and live music. The GoPro Mountain Games is the country's most celebrated festival of adventure sports where ProAms compete together in a celebration of adventure sports. Learn more, here.

- Vail Farmers' Market & Art Show, June 18 – Oct. 8: Summer in Vail means more than sunshine. It's also when the iconic Vail Farmers' Market & Art Show happens every Sunday. With around 40 food vendors presenting artisanal food, art and gifts, this event will have you returning week after week to walk along Meadow Drive. You may find a hand-poured candle, rustic jewelry, fresh-baked treats, organic produce and more while you're there. Learn more here.

- Hot Summer Nights, Select Nights, June 20 – Sept. 7: Claim your spot on the grass at The Amp (locals' affectionate nickname for the Gerald R. Ford Amphitheater) and boogie down to free live tunes put on by Hot Summer Nights. Find the most up-to-date Hot Summer Nights lineup here.

- BRAVO! Vail Music Festival, June 22 – Aug. 3: The Bravo! Vail Music Festival is a haven for classical and orchestral music fans. From indoor community quartet concerts at Vail Interfaith Chapel to outdoor amphitheater performances amplified by the rugged backdrop of mountains and pine trees, each concert is unforgettable. Learn more here.

- Vail Wine Classic, Aug. 10 – 13: Taste wines from award-winning vineyards spanning California to the French countryside. Delight in more than 300 wine choices at the grand tasting, including Napa Valley zinfandels, Australian cabernets and Tuscan Chiantis. Or grab some friends and enjoy curated lunch and dinner tastings before lacing up your boots for leisurely wine-paired hikes and nature outings. You'll also get the chance to ask your burning questions to winemakers and sommeliers during live seminars. Learn more here.
6. Enjoy the Spa

Relaxation After a day of adventure, there's nothing better than unwinding and relaxing. Vail offers a variety of luxurious spas and wellness centers where you can indulge in a massage or other treatments. For spa info at the Lodge at Vail click here. For Arrabelle Spa info click here.

7. Fly Fishing in the Vail Valley

Vail Mountain is also a prime spot for fly fishing. The Eagle River and Gore Creek offer some of the best fly fishing in the country, with a variety of trout species to catch. Click here to learn more about Gore Creek Fly Fishing and tours!

8. Indulge in world-class dining

Finally, don't forget to indulge in Vail's culinary scene. From farm-to-table cuisine to craft cocktails, Vail has a variety of dining options that are sure to satisfy your taste buds. You won't want to miss some favorites like Mountain Standard which uses a vibrant and unique menu using wood burning grills and rotisserie as inspiration and don't forget Matsuhisa, featuring 5-star sushi and classic favorites like showcasing signature dishes such as Yellowtail Sashimi with Jalapeño, Black Cod Miso and White fish Tiradito.

Take advantage of summer discounts if you're an Epic Pass Holder. Pass Holders also receive summer benefits at eligible resorts, including summer scenic gondola rides, 20 percent off summer food, lodging, bike rentals and golf.


Vail Mountain in the summer is a playground for adventure enthusiasts, nature lovers, foodies and more. With a wide range of activities, events, spas and dining, it's an excellent destination for families and solo travelers. Plan your trip now and experience the beauty of summer in Vail.