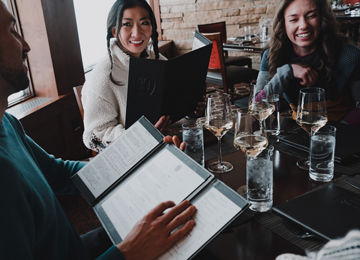 Nestled amidst the breathtaking peaks of the Rocky Mountains, Vail, Colorado, is renowned for its world-class skiing and stunning natural beauty. However, beyond the slopes, this charming mountain town has also emerged as a top culinary destination in the Rockies. Food enthusiasts delight in the array of exquisite dining experiences to be found. Vail offers a diverse and delectable vacation destination for foodies, with Michelin-recognized restaurants and culturally inspired eateries catering to every palate.
Michelin Recognized Restaurants in Vail

Vail has been making waves in the culinary world as a destination for food and wine vacations, and it's no surprise that two restaurants in town have earned prestigious Michelin-recognition along with three others within the immediate area, each offering a distinct culinary experience.
Sweet Basil, Vail:
Located in the heart of Vail Village, Sweet Basil is a culinary gem that has consistently impressed diners with its innovative American cuisine. With a menu that seamlessly blends local ingredients and international flavors, Sweet Basil elevates dining to an art form. Whether you savor their exquisite seafood dishes or indulge in their delectable desserts, this Michelin recoginized establishment is a must-visit for discerning food lovers.

Osaki's, Vail:
For those seeking an authentic Japanese dining experience in the Rockies, Osaki's delivers excellence in every bite. Osaki's crafts traditional and contemporary Japanese dishes with precision and flair. Sushi connoisseurs will be delighted by the fresh, expertly prepared offerings. The ambiance here is as inviting as the food, making it a standout choice in Vail's dining scene.

While Vail boasts these two exceptional Michelin noted restaurants, nearby Beaver Creek and Avon also are home to three Michelin rated destinations for culinary treasures:

Mirabelle, Beaver Creek:
Just a short drive from Vail, Mirabelle in Beaver Creek offers a French-inspired fine dining experience. Housed in a charming chalet, this Michelin-worthy restaurant serves classic European cuisine with a modern twist. The romantic atmosphere and impeccable service add to the allure of Mirabelle, making it a destination for special occasions.

Splendido at the Chateau, Beaver Creek:
Situated in the Chateau Beaver Creek, Splendido is another Beaver Creek gem with a Michelin-worthy reputation. With an ever-evolving menu showcasing seasonal ingredients, Splendido offers contemporary American cuisine in an elegant setting. The extensive wine list complements the dishes perfectly, making it a haven for wine enthusiasts.

Wyld, Avon:
Located just outside of Vail in Avon, Wyld offers a farm-to-table experience that's both sustainable and delicious. This restaurant emphasizes Colorado's agricultural bounty with a menu that changes according to what's in season. The rustic-chic ambiance and the creative cocktails make Wyld a unique dining experience in the Vail Valley.
Exceptional Dining Destinations for Culinary Adventure

Aside from Michelin-starred establishments, Vail boasts several other top-notch dining options that cater to various tastes and preferences, including these notable favorites.

Mountain Standard:
Nestled along Gore Creek in Vail Village, Mountain Standard is known for its hearty, wood-fired American cuisine. Diners can relish dishes prepared using an open flame, creating a cozy and rustic atmosphere that perfectly complements the mountain setting.

Almresi Vail:
For a taste of the Alps in the Rockies, Almresi offers a unique German-Austrian dining experience. With its charming chalet-style decor and hearty Bavarian cuisine, Almresi transports guests to the heart of Europe without leaving Vail.

La Tour:
A blend of French and American flavors awaits at La Tour. Located in the heart of Vail, this restaurant combines culinary excellence with an extensive wine list. The elegant setting and artistic presentations make it a favorite for both locals and visitors.

Matsuhisa Vail:
Created by renowned chef Nobu Matsuhisa, Matsuhisa Vail combines traditional Japanese dishes with Peruvian and Argentine ingredients. The result is a fusion of flavors that delights the senses. With its sleek and modern design, Matsuhisa offers a contemporary dining experience in the heart of Vail.
Visit Colorado's Top Culinary Getaway
Vail's culinary scene continues to evolve and impress, with each restaurant offering a unique experience that mirrors the town's diverse cultural influences and stunning natural surroundings. Whether you're seeking Michelin-starred cuisine or a cozy mountain retreat, Vail is among the top places for food vacations with something to satisfy every craving and culinary curiosity.
Prepare for your trip to Vail today, and let the adventure begin!