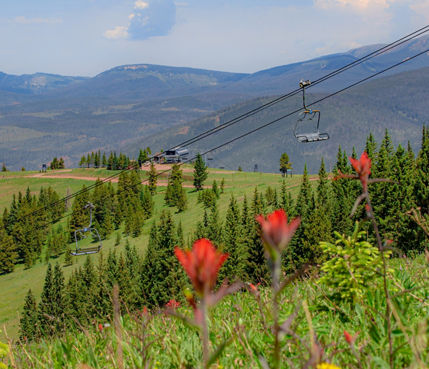 Vail might be synonymous with incredible winter skiing, but it's a popular summer resort destination too. Visitors are drawn to Vail during the summer thanks to its temperate weather, amazing outdoor recreation activities, and laid-back pace. There's a lot to do in the area during the summer months, but there's one activity that you just shouldn't miss: Taking a hike to see Vail wildflowers. Here's everything you need to know about finding seasonal blooms in the Vail Valley, including some great options for family hikes.

What Is the Best Time for Vail Wildflower Hikes?

The best time of year to see Vail wildflowers tends to be from early July to mid-August. You should be able to spot a few hardy species a few weeks before and after the prime summer window too. Remember that wildflower blooms vary from year to year. Local news outlets and blogs often post valuable information about wildflower viewing every season.

Trails at different elevations tend to have different plant and flower life, so hitting more than one spot provides an opportunity to see different species. You can learn more about local fauna from the guide to Vail Wildflowers.

Stay Close to Base Camp on the Vail Resort Trail System

Vail boasts a wide variety of trails open for exploration in the summer. You can start at the base of the mountain where the gondola departs, and head up for a challenging workout. Or, you can ride the gondola to the top of the mountain and explore from there. Some of the best trails to follow for wildflower views within Vail include:
Meadow Loop
Ridge Route
Strawberry Lane
Berry Picker

These trails have interpretive markers that provide information about the area's surroundings. Review the Vail Hiking Guide & Trail Map before heading out.

Take a Guided Walk at the Nature Discovery Center

Located about 10 miles west of Vail along I-70, the Walking Mountains Science Center is home to various educational displays and recreation opportunities. During wildflower season, you can head out with an experienced naturalist on a free public hike of Vail Mountain. You'll hear about the local ecology and wildlife while being treated to expansive views of the Vail Valley. Vail Resort partners with the Nature Discovery Center to offer these informative hikes.

The Nature Discovery Center at Walking Mountains Science Center is perfect for family wildflower hikes and offers guided public hikes throughout the week during the summer month. You can also arrange a private hike if you'd prefer to customize your route.

Head Out on Upper Piney Lake Trail

With cascading waterfalls and wildflower-filled meadows, this trail is a favorite among locals who want to see seasonal wildflowers. The Upper Piney River falls trail is a 5.9-mile out-and-back trail traversing several wildflower-rich meadows before beginning an ascent to the waterfalls. If you're looking for a moderately challenging half-day hike, continue all the way to the fall. If you'd like an easier outing, turn back before you begin to climb up through aspen stands.

Upper Piney Lake Trail is about 13 miles north of Vail in National Forest land. You must travel on dirt road to reach this trail. Be sure to bring plenty of water and food with you, as there are no services around this trailhead.

See Vail Wildflowers on the Gore Creek Trail

If you're in for a challenge, this moderately difficult 11-mile out-and-back trail east of Vail travels along Gore Creek before a significant uphill ascent. The trail meanders through stands of aspens and meadows dotted with wildflowers during the summer before transitioning to conifer forest. You'll find a variety of wildflower species along this trail thanks to elevation and forest type changes.

You'll find the Gore Creek Trail about 7 miles from Vail off I-70 E. Be aware that the elevation gain on the shorter section of this trail is almost 2,700 feet. Bring along enough water and snacks to last you for a full-day adventure.

Take in Wildflowers at the Betty Ford Alpine Gardens

Located in the city of Vail, the Betty Ford Alpine Gardens are the highest botanical gardens in the world. You can go for a self-guided garden tour or attend a special event. These gardens offer regular educational programs and kid-friendly activities. All of the walking paths are well-maintained and clearly marked. This is the best choice if you're interested in Vail family hikes to wildflowers.

The Betty Ford Alpine Gardens are located less than a mile from Vail on South Frontage Road. It's a good idea to make reservations for hikes and special events in advance.

Check Out the Sites from the Corral Creek Trail

Located off I-70 W near Frisco, this 5.5-mile out-and-back trail makes a steady climb through several meadows before reaching the top of a ridge. Wildflowers are scattered along the route, most concentrated in open meadow areas and near the small streams you'll pass over. The views of the Vail Valley from atop the ridge are truly impressive and shouldn't be missed if you're heading out on this trail.

The Corral Creek Trail is located about 15 miles east of Vail along I-70. Road construction projects may limit access to the trailhead from time to time. Visitors can park on the road off the exit ramp to use the trail.

Get Amazing Views atop Notch Mountain

Located in the Holy Cross Wilderness, Notch Mountain boasts an intermediate-to-challenging route for experienced hikers. This 10.9-mile out-and-back trail travels through meadows brimming with wildflowers before beginning the steep climb to the summit of Notch Mountain. This route has amazing photo opportunities and vistas, but the terrain is considered challenging.

The Notch Mountain hiking trail can be accessed via the Half Moon Trailhead in Minturn, about 20 miles south of Vail. Portions of the drive to the trailhead may take you over rough dirt roads.


Enjoy The Best Wildflower Hikes Near Vail
Are you ready to see Vail's stunning wildflowers for yourself? Start planning
your next Vail getaway
today. From dining options to cozy accommodations, the resort makes the perfect basecamp for a summer adventure in Vail. See the wildflowers, enjoy an
afternoon at the spa
, and take in all central Colorado offers.