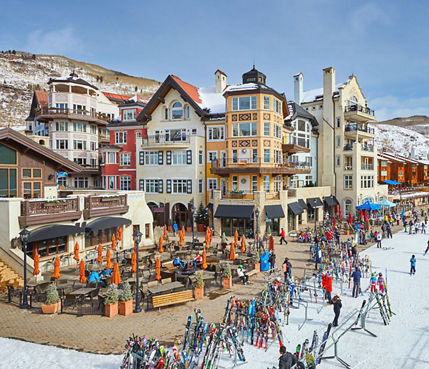 A successful and picture-perfect ski trip to Vail means making the most of skiing and snowboarding in the Rocky Mountains. For avid skiers, the Back Bowls of Vail are also a badge status or bucket list essential. And what better way to maximize your Vail skiing trip than by staying right to your favorite destinations? You won't have to remove any of your gear until just before stepping inside.

Many quality ski-in ski-out destinations, from luxury hotels, condos, and chalets to clubs, restaurants, and bars, dot the landscape around Vail. If you arrange your stops beforehand, you can even use skiing or snowboarding as your primary mode of transport for getting everywhere during your stay. Top destinations offer sought-after ski-in ski-out access and easily fit into your next snow vacation to Vail and the Rockies.


Vail Ski-In Ski-Out Hotels and Lodges
1. The Lodge at Vail
The Lodge at Vail
is a favorite Vail ski-in ski-out destination because of its history and stellar location. This lodge was the first hotel built in Vail, so its walls contain years of history from the Vail skiing community. The hotel also has a guest dining area for the ultimate in-house experience.
Located at the base of Gondola One near the center of Vail Village, The Lodge at Vail is perfect for ski-in ski-out access. It also connects you to the village's restaurants, bars, and central shops for top-notch après culture.
2. The Hythe Luxury Hotel
The Hythe Hotel
is a central feature of Lionshead Village, located at the base of Vail Mountain. While not directly ski in ski out, the resort is located in the Village and within a very short walk to the Lionshead base. Combining sophisticated and dynamic interior designs, The Hythe draws in people with its high-level service and comfort. Guests here get to ski in after a day on the mountain and dive straight into the hotel's well-being and spa services. These include:
Grounding massages
Restorative body wraps
Alpine facials
3. Grand Hyatt Vail

Grand Hyatt Vail is another top luxury hotel experience with ski-in ski-out access. The hotel takes this feature one step further by providing an on-property ski lift and ski concierge to ensure you have all gear at your fingertips.

Like other Hyatt facilities, the Grand Hyatt Vail offers guests outstanding on-site dining and cocktail experiences. You can also access the pool, gym, salon, spa, and massage services.

4. Manor Vail Lodge

At the base of Vail Mountain, Manor Vail Lodge offers a stunning view over Gore Creek and is just a short distance from the Riva Bahn Express lift. Here you will find warm, intimate interiors perfect for relaxing, combined with a restaurant and bar area overlooking a fantastic mountain vista.

At Manor Vail Lodge, you can experience the lodge's heated indoor and outdoor pools, cocktail lounge, gym, hot tub, jacuzzi, and heated paths for relaxing winter strolls.


Ski-In Ski-Out Vail Chalets
1. Game Creek Chalet
Choosing a ski-in ski-out chalet as your travel destination gives you extra space and privacy away from everyone else.
Game Creek Chalet
is an excellent example of why many people prefer chalets over other destinations.
You can find the Game Creek Chalet at the base of the mountain, situated in the glades right above Vail Village. Along with a fireplace and hot tub, guests enjoy a gym, spa and concierge services, and more in the nearby village.
2. Chalets at The Lodge at Vail
As well as its range of luxury hotel rooms, The Lodge at Vail offers
chalet options
for a private ski-in ski-out experience close to Gondola One. This chalet features expansive rooms that combine alpine aesthetics with warm designs. Guests get access to all the standard services at The Lodge at Vail, including the gym, pool, restaurants, and spa.
Ski-In Ski-Out Vail Clubs
1. Vail Mountain Club
Mountain clubs take accommodation, service, and socializing to the next level and are ideal for families and groups seeking a luxury clubhouse atmosphere. Members of
Vail Mountain Club
benefit from ski-in ski-out access to the mountain, combined with year-round ski storage and valet services. The club also has year-round outdoor hot tubs and pools, access to The Lodge at Vail's spa and fitness center, and a calendar of member special events.
2. The Arrabelle Club
The Arrabelle Club
lies within Lionshead Village, with direct access to the Eagle Bahn Gondola and Vail's central shopping and restaurant locations. All club members enjoy year-round ski storage, mountain-side ski valet services, après ski social events, and more.
Vail Ski-In Ski-Out Restaurants and Bars
1. The 10th
Ski-in ski-out destinations go beyond accommodations to include restaurants and bars.
The 10th
is a perfect example of a restaurant everyone should try to experience at least once. The restaurant prefers customer reservations, although walk-ins are allowed if you wish to savor fine dining atop the mountain.
2. The Express Lift Bar
At the bottom of Gondola One,
Express Lift
is an easy-to-ski-to destination that lets you grab a quick drink before returning to the mountain. As well as a full range of tap beers, the bar has a snack menu with satisfying finger foods like fries and pretzels.
3. The Wildwood Smokehouse
The Wildwood Smokehouse
offers a picturesque smokehouse dining experience at an altitude of over 2 miles high. If light snacks aren't enough and you need something heavier to keep you fueled for the mountain snow, this smokehouse might be in the best location. The Wildwood Smokehouse is at the top of the Wildwood Express lift.
Plan Your Next Vail Ski-In Ski-Out Winter Vacation
Once you've formed a plan for your next ski-in ski-out Vail trip, review the
Vail trail map
and see which lodging gives you immediate access to your preferred areas. Then, check out the
season pass options
to find the best one for your plans, arrange Vail ski-in ski-out rentals, and
book your lodgings
at Vail!