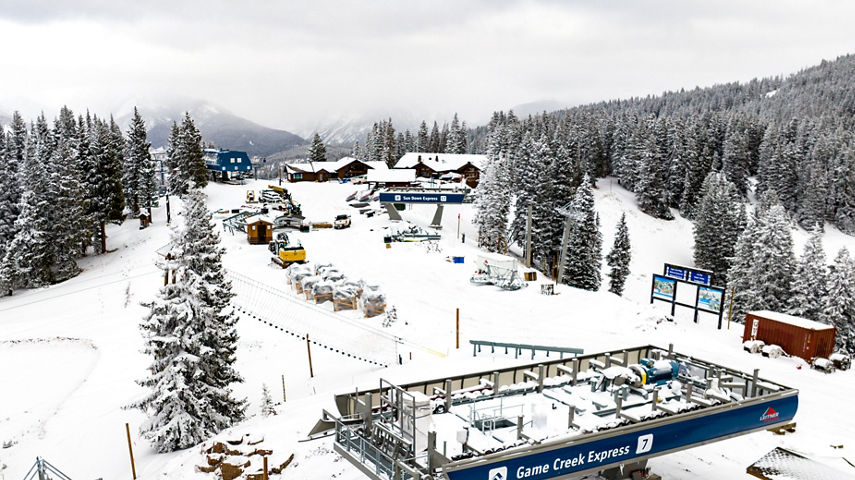 The Vail Mountain operation teams and our partners at Leitner-Poma have been working hard all summer and fall to install two new chairlifts in Game Creek Bowl and Sun Down Bowl. With snow falling and the mountain open for you to ski and ride, we want to share some updates so you know when to expect to ride the two newest lifts on our monster high-speed lift fleet: Game Creek Express (#7) and Sun Down Express (#17).
Concrete foundations are poured, lift towers have flown into place, and sheave assemblies were bolted onto the towers earlier this fall. This week, the last of our major lift components arrived to the top of the mountain near Wildwood Express (#3), where our teams will start the final preparations of our two new lifts.
Does it feel a little too close to winter to be wrapping up our lift installations?
Don't worry, we're used to working in the snow, so the early season snowfall hasn't slowed us down one bit. But you may see one more helicopter flying when we splice the haul rope for the new Sun Down Express (#17) to make sure we navigate the snowier terrain more safely. This helicopter will fly a line which will be used to pull the haul rope cable over the tower equipment prior to splicing the haul rope. It should be a pretty awesome day, which we'll make sure to capture and share with everyone.
So, when will you get to ski and ride off of these two new lifts?
A lot of this depends on natural snowfall. Over the past decade we've traditionally opened Game Creek Bowl in early December and Sun Down Bowl in mid to late December. We're feeling confident about having the lifts ready to go in December and hopeful that Mother Nature will send us snow in time so we can achieve the traditional dates for opening that terrain.
But what if it snows a TON before our historical opening date for Game Creek Bowl and Sun Down Bowl?
We never hold terrain here at Vail Mountain. Once it's safe to ski and ride, we'll start opening terrain around our construction project. If Mother Nature goes bonkers and we keep getting more and more snow, we can open Sun Up and Sun Down Bowls with High Noon Express (#5) and Sun Up Express (#9), as well as China Bowl, Tea Cup Bowl, Blue Sky Basin and the rest of the gang. While we can't open Game Creek Bowl without Game Creek Express, we feel great about the new lift progress and hitting our traditional opening timeframe for Game Creek Bowl in early December.
We can't wait to show off our two shiny new toys! Cheers to sixty years.