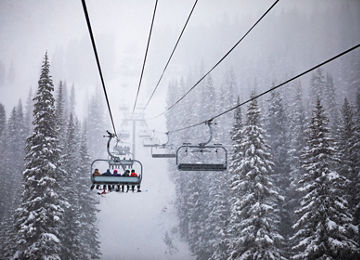 The holidays in Vail are a spectacular time of year. Throughout the Christmas season, the Villages and town are decked in colorful lights and festive décor, the mountain is covered in snow, and the holiday cheer is unmatched. With events, festivities, dining, and great skiing, there is so much to see and do in Vail at Christmas. If you're visiting us this December through the New Year, here are a few tips and insights on what to expect and what do for during your Vail Christmas celebrations !
Mountain Access - Passes & Tickets
Plan you pass or tickets early, If you plan to ski or ride on Vail Mountain (and we hope you do) double check your Epic Pass or lift ticket. We have some blackout dates during the holiday season, and if you're on a pass that doesn't have that access – it's better to know before you arrive with all of your ski gear. Also, remember your Epic Pass comes with great benefits, including discounts on lodging, food and lessons!
If you are looking for a lift ticket, we recommend purchasing those online in advance for the best rate. Remember, we're limiting lift tickets all season long so we'd hate for you to arrive ready to ski or ride of we're sold out for the day. Don't forget about your Buddy Tickets or Ski With a Friend Tickets!
Arriving and Parking at Vail
We definitely recommend looking at all of Vail's parking and bus options before arriving to the resort. For parking throughout the town, visit the Town of Vail's parking guide for all of the latest parking information. Staying in town? Check out Vail's free bus system – it's one of the largest free year-round bus services in the country!
Heading up the hill
There are four base area portals for mountain access: Golden Peak, Vail Village, Lionshead Village and Cascade Village. Our gondolas are the most popular way up the mountain with the closest access to the Town of Vail's parking structure.
However, we love heading up the hill from Golden Peak! It's only a few minutes' walk from the heart of Vail Village or one more bus stop, and offers a much quieter way up via Riva Bahn Express (6). Some of our locals also love Cascade Village to the west of Lionshead. There's parking and easy bus access to this very quiet and off-the-beaten-path portal.
Navigating Vail Mountain
First time to Vail Mountain? Want to know what's good that day? Looking for a FREE tour of the Back Bowls? Stop inside Vail Mountain's Legacy Hut at the top of Mountaintop Express and get the inside scoop from one of our amazing mountain hosts and guides. While there, learn more about the history of Vail and our 60th Anniversary.
Vail Holiday Things to Do
From December 15-31, Vail rolls out something for all ages to celebrate the holidays. Don't miss these holiday events:
Vail Ice Skating Spectacular at the Dobson Arena
10th Mountain Legacy Parade and ski down
Holiday Tree lighting in Vail Village
Fireworks to ring in the New Year
You can learn about all of the fun programming and more at Discover Vail and on Vail's event calendar.
Make Dinner Reservations
There are a ton of options to eat on the mountain, and reservations are only required at The 10th. Stop by the NEW Eagle's Nest Ice Bar, or the updated gallery-inspired experience at Bistro 14, or even the new Simba's Café for a warm treat! But once you're back in our vibrant villages, dinner reservations are definitely recommended. Don't get left out in the cold, and do some homework before you arrive!
Book Lodging Early
Plan your lodging early to be sure you get a great location to enjoy your Holiday vacation. Search and book hotels, condos and vacation rentals at Vail, and explore our vacation packages for the best seasonal offers throughout the year.
Thanks for spending your holiday with us, and we hope you have a safe, fun and amazing experience here in Vail. Happy holidays and cheers to a healthy New Year! For more ideas on how to spend your holiday vacation in Vail, check out our guide to four days at Vail.