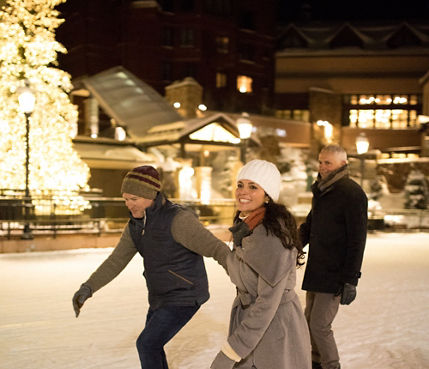 There's no debating that world-class skiing terrain is the jewel in the crown of Vail, but don't overlook all the other wonderful outdoor activities available at the resort. Ice skating in Vail during winter means picking one of two outdoor rinks in the town, looping around the ice under twinkling lights, and taking in the glorious mountain scenery.

Whether you skate in Lionshead Village or Vail Village, the snow-dusted architecture presents a picturesque winter wonderland scene to complement the family-friendly skating fun. It's also great to know that off-season visitors don't need to miss out on ice skating in Vail; there's a year-round indoor arena in the heart of Vail as well. Together, these three rinks cover every vision of ice skating in Vail.


Things to Know About Ice Skating in Vail
Ice skating in Vail is possible all year round, with some caveats. The two Vail skating rinks at the resort — Alderhof Ice Rink and Solaris Plaza Ice Rink — are only open for the winter season. Both are outdoor rinks open to all ages and skating abilities, and both offer skate rentals. Opening dates vary year to year, but typically start around Thanksgiving Day and end on the last day of the ski season.
The third Vail skating rink is Dobson Ice Arena, a multipurpose facility run by the Vail Recreation District. It's open year-round and hosts regular public skating sessions for all ages and abilities. You need to check the schedule in advance and plan ahead to skate during one of these sessions. Skate rentals are available at the arena.
The best Vail skating rink for you depends on the style of ice-skating experience you desire. As a wintertime après ski activity for lighthearted fun in a pretty setting, both Vail Village rinks are equally ideal. If you're visiting outside the winter season or want to do some serious ice skating on a pro-worthy rink, check out Dobson Ice Arena.
Alderhof Ice Rink at the Arrabelle Hotel
The Alderhof Ice Rink opens at the start of the winter season at Vail Square in the heart of Lionshead Village. The popular Vail skating rink is run by
The Arrabelle
at Vail Square, a luxury hotel in the village, but it is open to the general public. It's open daily in winter in the afternoons and evenings. You may bring your own ice skates or rent a pair at the rink.
If you're spending the day skiing on Vail Mountain, the location of the Alderhof Ice Rink is ideal as it's just steps away from the Eagle Bahn Gondola. Lionhead's Bavarian-inspired architecture amplifies the festive vibe you'll feel while skating around the rink. After skating, hang out by the nearby fire pits to warm up. There's no shortage of shopping and dining options, so you can combine all your après ski activities in one spot.
Solaris Plaza Ice Rink in Vail Village
The
Solaris Plaza Ice Rink
, next to the Solaris resort in the heart of Vail Village, is open daily in winter. Skating sessions are available in the late afternoons and evenings, with earlier opening times on holidays. Get tickets and rent skates (if you need to) at the
Deca + Bol
restaurant and bowling alley next door to the rink.
This beautiful oval-shaped Vail skating rink is an outdoor venue with heaters around the perimeter. There are dozens of shops and restaurants surrounding the plaza and some top local attractions like Vail Village Arts gallery, the Colorado Snowsports Museum, and the Hall of Fame.
Dobson Ice Arena
Dobson Ice Arena
has a different vibe from the other two Vail skating rinks. It's one of the largest such arenas in Colorado, with a 35,000-square-foot ice rink. It hosts concerts and the Vail Invitational Skating Championships. You can watch the local semi-pro hockey team, Vail Yeti, in the winter.
The arena is open year-round, meaning you can go ice skating in Vail even when there's no snow. The ice rink is open to the general public, but its full schedule of classes, leagues, and competitions means you must plan ahead to attend public skate times.
Public skate sessions are suitable for all ages and abilities, and skate rentals are available. If you have children ages 2 to 5 who want to try ice skating in Vail, visit during one of the toddler time skating sessions. Private lessons for all ages and levels are also available at Dobson Ice Arena. Contact the individual instructors for custom arrangements.
One unique — and super-fun — activity available at Dobson Area is ice bumper cars. Pre-register online or over the phone, and head to the skating rink to ride in a giant donut-shaped bumper car. Riders must be at least 48 inches tall, and you get 15 minutes per session.
Watch Elite Ice Skating in Vail
If you love watching exceptional ice skating, check the schedule for
outdoor ice skating shows
at Solaris and Alderhof ice rinks. These shows are 15 to 20 minutes long and showcase elite professional and champion figure skaters in a high-energy performance set to holiday-themed music. Maybe watching one of the shows will inspire you to try some fancy new moves when you go ice skating in Vail!
Ready to Go Ice Skating in Vail?
If your visions of a perfect
Vail vacation
include skating around a scenic ice rink or practicing your figure skating skills inside an enormous ice arena, then be sure to add it to your itinerary. With two outdoor Vail skating rinks and one indoor rink to choose from, it couldn't be easier to do so.