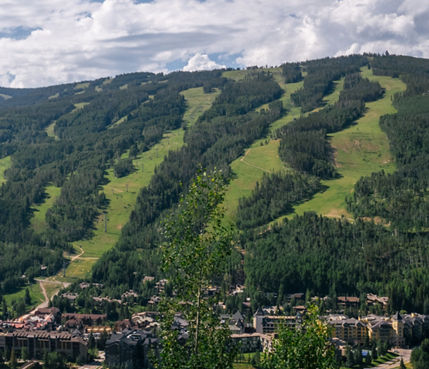 Whether you're craving a leisurely float with a few splashes or a more invigorating experience, kayaking in Vail, Colorado, promises spectacular scenery and incredible memories.

During summer, it takes little more than a stroll around the village to inspire a Vail kayaking adventure. Follow the sounds of roaring whitewater toward the International Bridge, and you might see some kayaking action at Whitewater Park. Vail's very own section of Gore Creek is prime for kayaking early in the season.

For the best family-friendly and beginner-level kayaking near Vail, local outfitters take groups out on the Upper Colorado River. Guided kayaking tours are available all summer and include options for all skill levels.


Kayaking Outfitters and Tours in Vail
Several local outfitters offer guided kayaking near Vail. Their guided options, almost all on the Upper Colorado River, are excellent places to try kayaking and experience the scenic rivers and lakes in a more relaxed environment. A variety of outfitters are available, and each offers unique features and options depending on your group's needs. Half-day and full-day tours are available, plus multi-day trips for those seeking an even more immersive kayaking adventure.
The guided kayaking tours near Vail will include shuttle service to and from the put-in and take-out spots on the river. All equipment is provided, including an open, inflatable kayak known as a duckie (or ducky), plus paddles and life jackets. Helmets, wetsuits, and splash jackets are also available as needed. You'll receive a full list of instructions and recommendations for clothing, footwear, sun protection, and more when you book your Vail kayaking tour.
Keep in mind that water levels on the Colorado River fluctuate from year to year and during the summer season. This influences the speed and challenge level posed by a kayaking tour and can affect age restrictions and tour availability. Check for up-to-date details with tour providers.
Sage Outdoor Adventures
Sage Outdoor Adventures offers its
Upper Colorado Guided Ducky Rafting Trip
twice a day from July through September. The tour is for anyone aged eight and up and features Class II rapids. This means it's mostly gentle and beginner-friendly but with plenty of splashes and excitement. Choose a single or double kayak for this two-hour tour. Meet at the Colorado River Center in Dotsero, approximately 40 minutes from Vail Ski Resort by car.
Timberline Tours
Timberline Tours, a local Vail outfitter since 1971, offers
Duckie Float Trips
on a Class II section of the Upper Colorado River. Transportation from Vail is included, plus snacks and refreshments. The tours last about four hours and are available from mid-May through September. Participants must be at least six years old and weigh 50 lbs to share a double kayak with an adult or 12 years and up to paddle a single kayak.
Colorado Rafting Company
From May to September, Colorado Rafting Company hosts
guided kayaking
trips near Vail. These include half-day, full-day, and overnight tours on the Upper Colorado River, plus a half-day island-hopping tour on Lake Dillon. There is also the option to combine kayaking and rafting during the same tour.
All river kayaking trips meet at the Upper Colorado River boathouse at Rancho del Rio, approximately 45 minutes from Vail by car. Half-day tours last around 3.5 hours and 8 hours for a full-day tour. The water flow varies, but you can expect to tackle Class I to III rapids during the float trip. Start with slow-moving stretches to practice your paddling techniques, then tackle some fun whitewater challenges through the canyon. The minimum age is 12 for river kayaking tours.
Lake Dillon kayaking tours depart from the CRC Boathouse in Silverthorne, Colorado, 30 miles from Vail. Book a morning trip for calmer waters as you explore the scenic shores and numerous islands of the reservoir. Anyone aged six and older is welcome on these group or private kayaking tours.
Learn to Kayak in Vail
For the more adventurous and experienced kayakers, the Vail area is a great place to take a kayaking lesson where the focus is on learning key skills for more advanced whitewater techniques.
Alpine Kayak
is based in Edwards, Colorado, 15 miles from Vail Ski Resort. The company specializes in kayaking on Colorado's whitewater rivers and offers private and group lessons along with kayak camps for kids and teens.
Their group lessons are full-day, intensive sessions that will teach you the fundamentals of whitewater kayaking. Learn all about the equipment, paddling techniques, and how to navigate currents. Private lessons are customized to suit your abilities and learning preferences.
DIY Vail Kayaking Adventures


Experienced kayakers with the necessary skills and knowledge can pursue unguided adventures on the rivers and lakes near Vail. It's important to know your own ability level and destination options. If you don't have your own equipment, rentals are readily available from the following outfitters:
Kayak Destinations in the Area
There are plenty of incredible stretches of river for kayaking near Vail, plus the Whitewater Park in the village and Lake Dillon. The Whitewater Park is generally open from mid-May through July and has an adjustable water wave system for optimal rapids.
The Colorado River has a wide variety of stretches to suit different skill levels. The Upper Colorado is mostly Class I to III. For more challenging whitewater, experienced kayakers could research spots on the Piney River and Eagle River.
If you're renting gear, ask a guide at the rental company for recommendations to suit your skill level.
Want to Go Kayaking in Vail?
Kayaking in Vail is sure to be a highlight of your vacation, but there's so much more to see and do! Check out all the
summer activities
at Vail Ski Resort, including scenic gondola rides, hiking, and mountain biking. Get started on your next adventure by planning your trip to
Vail Ski Resort
.