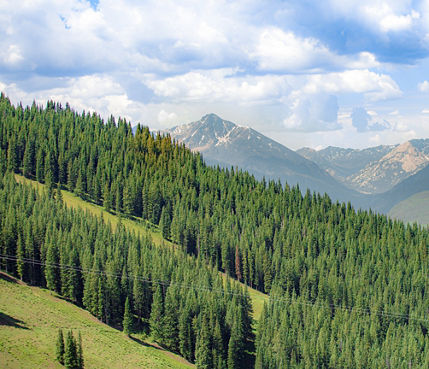 Standup paddleboarding, also known as SUP, is an enjoyable activity for all ages — even more so in a setting as spectacular as Vail. With a short learning curve and ample places to pick up equipment rentals, SUP in Vail can be a self-guided adventure. Paddleboarding enthusiasts will find serene ponds, recreation-rich reservoirs, secluded alpine lakes, and some gentler stretches of the Colorado River, all within an hour of Vail Ski Resort. For first timers seeking professional guidance there are various paddleboarding tours to tryout the sport around Vail. Whatever your SUP style, these adventures are sure to be super-fun, scenic, and an unforgettable highlight of your summer vacation.


Popular Places for Paddleboarding Near Vail
Paddleboarding is a versatile activity that can be done on any relatively flat body of water. Beginners should stick to calm water as much as possible, but you'll soon maintain balance over ripples and gentle currents. If you have SUP experience — or you're especially adventurous — rivers with rapids up to Class II are a fun option.
These paddleboarding spots around Vail are great for a day out enjoying paddling in clear, clean water with a scenic backdrop.
1. Nottingham Lake
Nottingham Lake, also known as Benchmark Reservoir, is 11 miles west of Vail Ski Resort in the heart of Avon. It's the centerpiece of
Nottingham Park
, which also features picnic areas and recreation paths. The water is calm, fairly shallow, and relatively warm, making this one of the best beginner-friendly spots for SUP near Vail. Swimming is allowed, but only in designated areas. SUP rentals are available at the
Stand Up Paddle Colorado
location near the lake.
2. Piney Lake
Don't let the 12-mile distance of Piney Lake from Vail fool you. This remote, picturesque location can take up to 45 minutes by car on a maintained forest service road. The journey is worth the time if you want to enjoy one of the most scenic spots for paddleboarding near Vail. The lake sits in the
White River National Forest
at 9,350 feet, with beautiful views all around.
SUP rentals
are available at Piney River Ranch, which is open to the public from June 21 through September. Piney River Ranch is a popular scenic destination with a restaurant and outdoor dining available.
3. Sylvan Lake
Another popular place for paddleboarding near Vail is Sylvan Lake, located inside
Sylvan Lake State Park
. The 42-acre lake is approximately 40 miles from Vail Ski Resort, less than an hour away by car. Paddleboard rentals are available on a first-come, first-served basis at the entrance gate from Memorial Day weekend to Labor Day weekend. Choose a half-day or full-day rental.
4. The Colorado River
Only certain stretches of the Colorado River are safe for paddleboarding in Vail, so do some research before going on a self-guided adventure. Many local guides recommend a stretch of the Upper Colorado River from
Rancho del Rio
to State Bridge. Maxing out at Class II rapids, it can be a fun challenge for beginners and a memorable adventure for all.
Rancho del Rio is a hub for local whitewater outfitters, so you can arrange a shuttle back from State Bridge if needed.
Colorado Rafting Company
and Stand Up Paddle Colorado both have boathouses at Rancho del Rio, where you can pick up SUP rentals.
5. Lake Dillon
A little further from Vail, in Summit County is the expansive
Lake Dillon
. This large reservoir is a popular destination for recreational boating, fishing, and paddling. The lake sits at 9,000 feet and offers fantastic views of the Ten Mile Range. Two small towns with marinas, Dillon and Frisco, flank the lake. Both offer restaurants, bars, and rental concessions, including SUP rental. With two main entry areas, Dillon Marina is approximately 35 minutes from Vail by car, and Frisco Bay Marina is 30 minutes away.
The waters of Lake Dillon are very cold, so wetsuits are recommended with SUP rentals. Swimming is not permitted in the lake. Local guides recommend sticking to the shoreline, as the middle of the lake is subject to strong currents. Mornings are also better for calm conditions. You might explore some of the numerous small islands that dot the lake. They're rich with wildlife, so keep an eye out for beavers, deer, and eagles as you paddle.
SUP Rentals in Vail
Around half a dozen local outfitters offer SUP rental packages in the Vail area. Call for up-to-date details. Most packages include a paddleboard, paddles, and life jacket. Look for inflatable paddleboard rentals to easily transport your gear offsite.
Colorado Rafting Company has two locations offering SUP rentals near Vail: Silverthorne near Lake Dillon and Rancho del Rio on the Upper Colorado River. Packages include stable, wide, inflatable paddleboards designed for both whitewater and flat water, plus a pump, paddle, PFD, and helmet. Rentals are available for four or eight hours or overnight. Wetsuits, booties, and splash jackets are also available to rent.
Alpine Quest Sports in Edwards, 15 miles from Vail Ski Resort, offers SUP rentals for full days. They have two board models available. Book online in advance.
Stand Up Paddle Colorado has three locations offering SUP rentals: Dillon Marina, Nottingham Lake, and Rancho del Rio on the Colorado River. Kids' boards and monster boards that can carry up to seven are available at Nottingham Lake.
Pick up rentals for paddleboarding in Vail from Rocky Mountain Adventure Rentals, located eight miles from the resort in Minturn, Colorado. Three SUP models are available for full-day rentals, including a double-wide board ideal for sharing.
Frisco Bay Marina has kid-size and standard-size SUP rentals available for a minimum of two hours.
Guided SUP Tours Near Vail
A guided tour is a great option for anyone excited to go paddleboarding in Vail. You benefit from expert guidance and local knowledge about the best spots for paddling.
Stand Up Paddle Colorado's Family River Adventure
The
2.5-hour Family River Adventure
with Stand Up Paddle Colorado is available for all ages and all experience levels. Expect a few moderate rapids on this mellow stretch of the Colorado River. You can choose to ride the river via SUP, raft, or kayak and even switch vessels with friends or family members during the tour. The company also hosts a 2.5-hour Whitewater SUP Clinic with a greater focus on instruction.
Colorado Rafting Company's SUP Tours
Colorado Rafting Company offers two SUP tour options near Vail. The Upper Colorado River tour has a minimum age of 12 and features Class I to II rapids. These half-day tours begin with a lesson and are combined with rafting trips.
The half-day Island Hopping Lake Dillon tour is ideal for beginners. Paddle around the protected waters of the Frisco Bay area, spot wildlife on the islands, and take in views of high mountain peaks. Book an early morning tour for the smoothest water.
Experience SUP and So Much More in Vail
Paddleboarding in Vail is a delightful activity to add to your summer vacation itinerary. But don't overlook all the other fantastic
summer activities
at Vail Ski Resort! Get started with your summer vacation planning today.