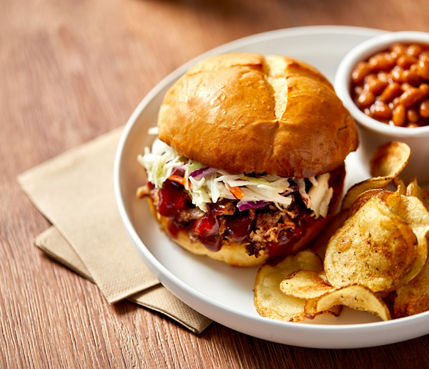 Family-friendly dining options abound in Vail, Colorado. That's part of what makes the year-round mountain town such a great place to visit. Dining out with the family can be challenging, especially for those who need to stick to strict dietary restrictions or want to keep little ones from causing a disturbance to other diners. Luckily, there are plenty of Vail restaurants that cater to families and diners of all ages.

Check out the 10 best family-friendly restaurants in Vail, so you don't have to worry about finding a restaurant that can satisfy the whole crew.

1. Tavern on the Square

Tavern on the Square is among the best dining options in Vail. Located right on Vail's Main Street inside the Arabelle at Vail Square, this restaurant has a lot to offer for the whole family. It features an extensive menu, and its staff is known for providing quick, friendly service.

Those looking to dine in a hurry can visit the walk-up bar and dine outdoors on the square or reserve an indoor table for a la carte dining on the mountainside. Children dining here are treated to coloring and a kid-friendly menu that includes traditional favorites like burgers and chicken tenders.

2. Blue Moose Pizza

Blue Moose Pizza is a kid-friendly restaurant in Vail Village with a cozy atmosphere. It offers pizza by the slice and whole pies. The menu includes fun flavor variations, such as Apple of My Pie, with bacon, sausage, apple slices, and gorgonzola cheese.

Kids with picky palates can enjoy the Little Moose menu, which includes chicken tenders, mac n' cheese, and a veggie plate.

2. Bully Ranch

A casual American restaurant located within the Sonnenalp in the heart of Vail Village, Bully Ranch has a large outdoor patio with views of Gore Creek, making it a great place to dine with kids on a warm summer day. The menu features a variety of burgers, sandwiches, salads, and entrees, all made with fresh, seasonal ingredients. The kids' menu has all the classics, like chicken fingers, mac and cheese, and grilled cheese sandwiches. Bully Ranch also has a full bar, so parents can enjoy a drink while the kids eat.

4. La Tour Restaurant

Families looking for a high-end dining experience should look no further than La Tour Restaurant. This elegant French bistro offers children's plates that cater to more sophisticated palates, including Chicken Paillard and Bucatini Pasta. After their dinner, kids dining at La Tour are offered a heaping scoop of ice cream on a house-made waffle cone with fresh berries.

5. Westside Cafe and Market

Westside Cafe is located in the heart of downtown Vail, just six minutes from the Eagle Bahn Gondola. The restaurant is well known for its family-friendly experience, which includes a kids' menu and children's tables. Westside Cafe is an e-cafe that offers healthy breakfast, lunch, and dinner options, including organic coffee, fresh juices, vegetarian fare, and gluten-free items.

6. La Bottega Ristorante

La Bottega is a cozy Italian restaurant with a menu that has something for everyone. The staff is friendly and helpful, and the dishes are delicious. This family-friendly restaurant also caters to smaller appetites with half-sized portions, perfect for feeding the kids.

7. Pazzo's Pizzeria

Pazzo's Pizzeria is a quaint pizza restaurant located at the west end of Vail Village's parkade. This delicious option for family dining in Vail features an array of classics on the menu, including pizza, pasta, calzones, mozzarella sticks, and soups and salads. Entrees are perfect for sharing and include soup or salad and garlic bread.

8. Vendetta's

Serving up Italian cuisine and pizza in the heart of Vail Village, Vendetta's features a casual atmosphere with a large outdoor dining space in the summertime. The restaurant is open year-round for lunch and dinner. Although it doesn't feature a kid's menu, children are welcome, and pizzas are ideal for the whole family to share.

9. The Little Diner

The Little Diner features all-day breakfast and lunch with favorites like omelets, crepes, and breakfast platters. Little ones can enjoy a full breakfast platter that includes egg, toast, hash browns, fruit, and meat, or lunch options such as grilled cheese or burgers.


Plan a Family Ski Adventure in Vail, Colorado
Experience an unforgettable
family ski vacation in Vail, Colorad
o
. This family friendly destination offers a wide range of family-friendly things to do, with lots of options for all tastes. Vail is a place the whole family can enjoy with adventure on the slopes and family friendly dining experiences.