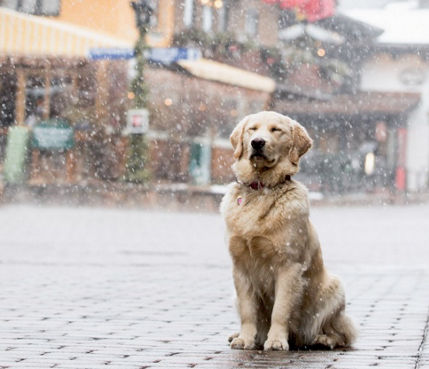 Here in Vail, we take our dogs just about everywhere with us – and you can too! Many local hiking trails, hotels, and restaurants welcome well-behaved dogs, and is also home to several dog parks where you can let your pups off the leash to play. Here's how to make the most of this dog friendly vacation destination.


Hiking
There are many hiking trails around Vail that are perfect for an outdoors adventure with your dog. . It's important to remember that the trails in the Vail area can be challenging even for the most energetic pups. That means it's important to condition your pup before you head out on a hike. High altitudes can affect dogs just as much as humans — so be sure to give your pups time to adjust to being at a higher elevation before heading out on a hike, and to be prepared with water for them too.
Hiking Essentials
Leash – please read and adhere to trailhead signage and leash laws
Collar and tags with up to date contact information, including a cell-phone number and rabies vaccine tag
Collapsible bowl and water – even if there is water along the trail you want to make sure you bring some just in case. Water levels in creeks can vary depending on the time of year and precipitation accumulation.
Treats or a small amount of food if you are going to be hiking for several hours
Favorite Trails for Hiking with Dogs
Vail Mountain allows dogs on designated hiking trails on the mountain and has routes for all abilities. Please note that dogs are not allowed to upload via the gondola. However, if you hike to the top of the mountain, the gondola is free to download for both people and their pets.
Booth Falls and Lake Trail, and the Pitkin Lake Trail are both longer hikes with water along the way or at the final destination. Check out this trail guide for directions and other helpful information.
Gore Lake Trail starts from Bighorn Road in East Vail and is a great trail for both dogs and their humans. It is 12.2 miles to Gore Lake, but the trail loosely follows Gore Creek, and there are plenty of views and spots to play in the water. There's a lot to enjoy on this trail — even if you don't make it all the way to Gore Lake!
Dog Parks
Off-leash dog parks are a fun and convenient way to give your dog some time to let off a little steam. Both you and your dog are sure to make a new friend. even hear a couple local suggestions for restaurants, trails, and fun things to do. Vail dog parks are social places by nature, and you're sure to enjoy the welcoming atmosphere they offer.
Stephens Park Off Leash Dog Park
– This park is located in the Intermountain neighborhood of West Vail and has a field for playing as well as a creek for swimming. There is no fence surrounding this park, so make sure your dog has proper recall skills.
Bighorn Park Off Leash Dog Park
– This beautiful open space in the scenic East Vail has plenty to keep you, your family, and your dog entertained, including a pond and kid's playground. Be aware that your dog will need to be on a leash if you plan to be in the playground area.
Dog-friendly Restaurants
After a full-day of hiking, head into Vail Village or Lionshead where dog-friendly patios are plentiful and offer everything from gourmet dining to a slice of pizza. Keep in mind that pets are allowed on the patios of these restaurants. Only service dogs conforming to ADA definitions are allowed to enter restaurant buildings in Vail. We recommend making reservations ahead of time for all these restaurants, especially during peak summer and winter travel months.
It's always a good idea to call a restaurant and check before bringing your dog, as policies are subject to change at any time.
Pet Friendly Lodging
Several hotels in Vail allow dogs, and in some you might even find a treat waiting for you upon arrival. Be sure to check with each hotel individually on their policies and book as early as possible. Many hotels only allow pets in a limited number of rooms that may fill up quickly, and some properties have number or weight restrictions on what pets they allow.
Be sure to check with individual hotels to determine if they charge a pet deposit. Many local hotels charge a refundable fee between $50-$100 for animal guests. Some of the many pet-friendly hotels in town include:
No matter where you go in Vail, you'll find restaurants, pubs, and hotels where your furry friends are welcome. Start planning your next pet-friendly Vail getaway today.