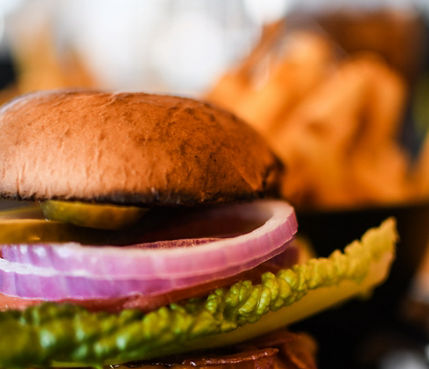 Vail, with its world-class skiing, breathtaking mountain landscapes, and a vibrant town atmosphere, is a place where every dining and après experience becomes unforgettable. While choosing a beer and a burger is always a great option, there's something about enjoying this classic indulgence during a Vail vacation that makes it truly special.

As you explore Vail Resort, you'll find a delightful selection of restaurants that promise to serve some of the best burgers in the area. Here, are seven exceptional burger joints in Vail, each with their own unique appeal and a worthy stop for any burger lover.
The 10th: If you want to take your burger experience to new heights, head to The 10th, located on-mountain at Gondola One in Mid Vail. Not only does it offer breathtaking views of the Gore Range and ski trails, but it also serves up what's arguably one of the best burgers in Vail. Their 10th Burger, made with 7X wagyu, cheddar, and tender belly bacon, is a must-try.
Revel Lounge: Situated at the Hythe Hotel, Revel Lounge specializes in Colorado-inspired cuisine and craft cocktails. Their Hythe Burger, nestled in a brioche bun with white cheddar, aioli, lettuce, tomato, and onion, is a true contender for the title of the best burger in Vail Village.
Two Elk: As you explore the slopes, make sure to stop by Two Elk, which offers unrivaled views at the entrance to the world-famous Back Bowls. While they are known for their chili and cornbread, their burgers come with a side of unbeatable mountain scenery.
Bully Ranch: Inside the luxury Sonnenalp Hotel, you'll find Bully Ranch, an elegant eatery offering creative Southwestern and all-American cuisine. Here, you can savor unique burgers like The Peak Burger or Bully Bourbon Burger, both featuring 7X wagyu patties and delectable toppings.
Deca + Bol: A truly unique concept in the heart of Vail Village, Deca + Bol combines a vintage bowling alley with a fine-dining restaurant. Don't miss the Deca Burger, topped with shishito manchego spread and bacon jam – it's a delight for those who appreciate unconventional burger flavors.
The Little Diner: For a classic American diner experience, visit The Little Diner. With a variety of burger options made with high-quality Angus beef, it's a safe bet for burger enthusiasts. Try their creative offerings like the Expert Burger or The Hatch, and don't forget to explore their plant-based Beyond burger.


While Vail offers a plethora of outdoor adventures, make sure to carve out some time to savor these exceptional burgers. Whether you're on the slopes or exploring the charming town, these great burger joints are sure to satisfy.