The seemingly endless terrain, seven legendary Back Bowls, more groomed terrain than anywhere on earth, even our iconic alpine villages, they're all here waiting for you! Discover what Vail has in store for you this winter and join us for another unforgettable ski vacation. All you need to bring is your favorite people, we've planned out your perfect getaway from the time you arrive to the time you leave.
See our itinerary recommendations and experience the BEST OF VAIL THIS SEASON!
Ready to enjoy another perfect getaway to Vail? Discover what luxuries await you at our countless lodging properties.
Explore Lodging
Previous tab
Previous tab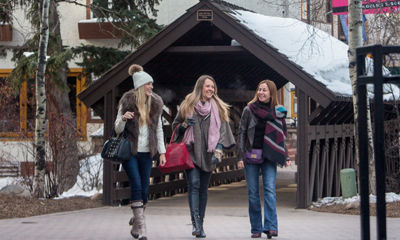 DAY ONE
1. Arrive, get ski equipment and passes
You made it! First thing's first – time to check in and get settled. We recommend staying at either
The Lodge at Vail or The Arrabelle
, putting you in the middle of the action both on and off the slopes. When you reserve your ski equipment online, we'll deliver it right to your hotel. Make sure it's arrived safely and either hand it off to Vail's super-convenient ski valet at your hotel, or grab it and head to the mountain. Make sure you have your lift tickets purchased and in-hand.
2. Get on the mountain
Take advantage of the mountain immediately and explore Vail's sprawling Back Bowls. Start things off by cruising a few of China Bowl's blues or take in the views by cruising down Sleepytime Road.
3. Shopping in Vail Village
Swing by your room, drop off your equipment, and grab your purses – it's time to shop. Stroll along Vail Village's heated cobblestone streets and explore our countless
world-class shopping
options while soaking up the alpine-inspired vibe. Some favorites include Gorsuch, The Golden Bear, Valbruna, Perch and Cos Bar.
4. Dinner in Vail
Vail's dining options
are endless, offering everything from casual pizza joints to high-class French cuisine. Mountain Standard and Sweet Basil are two local favorites, both coming from critically acclaimed chef Paul Anders and serving up some of the best dishes in town.
5. After-dinner drinks
Après isn't just for after skiing. Grab your girlfriends and post up for the night or bar hop up and down Bridge Street, making sure to stop in Frost Bar for one of their specialty draft cocktails, like the Tin Man, or a Frost Toddy "Warmer".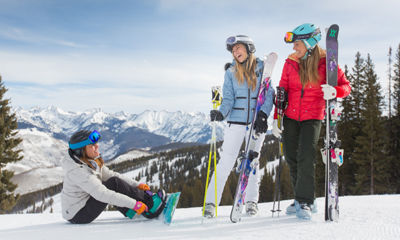 DAY TWO
1. Breakfast in town
Time for some morning fuel!
The Little Diner
slings crowd-pleasing, homemade dishes right in front of you for a delicious and entertaining meal. Nearly everything on this family-run diner's menu is made from scratch and sourced locally in Colorado. Pro tip: save room for the German Pancake!
2. Skiing and afternoon lessons
After breakfast, pick your skis up from the hotel's ski valet and get on the mountain once more! Get a few hours in before heading to one of Vail's women-focused lessons, like the
Women and Wine Friday Afternoon Club
. Enjoy your private lesson for up to three women and cap off a successful day on the slopes with a glass of wine at Express Lift at the base of Eagle Bahn Gondola.
3. Après
Join your fellow ski and beverage enthusiasts at one of Vail's many après ski options to continue the merriment. Since you'll be near Eagle Bahn Gondola after your lesson, swing by neighboring
Garfinkel's
or
Tavern on the Square
.
4. Dinner
Are you in a sushi or steak kind of mood?
Matsuhisa
is a beautiful high-end Japanese restaurant serving some of the freshest fish in Vail.
Elway's
is known for its USDA aged prime beef, whether you are in the mood for a tender filet or juicy ribeye. You really can't go wrong!
5. After-dinner dancing at Samana
Samana Lounge is Vail's premiere dance club and the perfect place for you and the ladies to let loose! With different DJs every night, you'll be showing off your dance moves into the wee hours of the morning.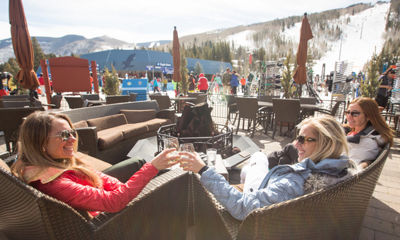 DAY THREE
1. Morning ski
Your confidence is bursting after yesterday's lesson, so it's time to get back on the slopes. Maximize your time by using Vail's handy
beginner
or
intermediate
trail guides to make a game plan before getting on the mountain.
2. Lunch either on the mountain or in town
For a delicious, luxurious on-mountain lunch experience, kick off your boots and slide into the complimentary slippers at
The 10th
as you sip a glass of wine while enjoying the alpine cooking. You can also head into town for an authentic French sandwich and can't-miss cookie tartare at The French Deli.
3. Afternoon spa
It's not a girl's weekend without a trip to the spa. Vail has numerous world-class options, from
The RockResorts Spa
at the Arrabelle and the Lodge at Vail, to the Sonnenalp and more. Massage those muscles after a great ski workout or refresh with a facial.
4. Dinner on mountain
What better way to close out your unforgettable vacation than with unparalleled views at one of our
on-mountain dining
spots? Enjoy a five-star American-French dinner at Game Creek Restaurant while overlooking the stunning Game Creek Bowl – and ride a snowcat to get there! For a more casual experience, head up to Bistro Fourteen and catch remarkable glimpses of Mount of the Holy Cross, a 14-er and the restaurant's namesake.