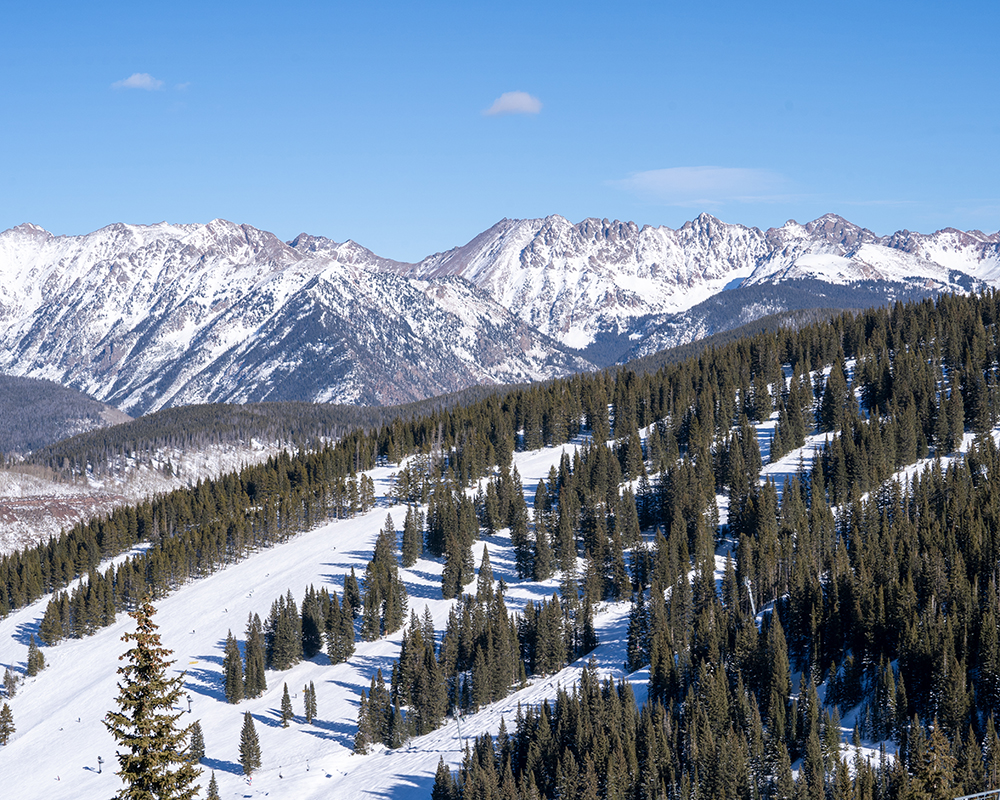 We can't think of anyone who is a fan of springing the clock forward on the second Sunday in March. But we can think of an upside – Spring Skiing. March kicks off longer days and warmer temps, but it can also be the snowiest month in Vail. For us, the potential for snow, along with soft and warm spring turns, is THE dreamiest season to hit Vail Mountain.

Here's How to Make the Most out of Spring Skiing in Vail:
Dress for Success:
Mornings and nights will still be cold (and potentially snowy). But once the sun is out, be ready to ditch some layers. Use lunch as an opportunity to shed the down mid-layer once things warm up.
It's OK to Snooze:
March through May can bring a lot of thaw-freeze. That means snow will soften up after cooking in Vail's strong sun all day, and then freeze into bullet-proof chop when temps drop at night. It's okay to have a later dinner and enjoy the later sunsets, because sleeping in is allowed (and encouraged).
Have a Terrain Plan:
Our favorite way to enjoy a full day of spring skiing is to follow the temperature. If you get out early (before 10 AM), plan to crush some groomers. Our plan is to typically hit a few front-side laps, pop into
Northwoods
for a groomed blue or black, then hunt corduroy in the Back Bowls (The Slot and Red Zinger are usually reliable). Once the sun has time to cook the Back Bowls, it's time to explore all that Vail Mountain has to offer. Slow smooth turns are the essence of what Spring Skiing is all about. Once things get a little too sloshy, head back to the front side for a few more groomed runs (or maybe sunbaked forgiving moguls) and then to Après.
- Morning Favorites: Follow the grooming report, but we love Berries, Northstar, Gandy Dancer, The Slot, & Red Zinger.
- Afternoon Favorites: Over Yonder, Shangri-La Glade, Forever, Ghengis & Widge's Ridge.

Don't Leave Home Without It:
It sounds silly, but our top recommendation to have the most fun in the sun – SPF & Water. That's right, it's not the fancy ski wax, or the high-tech gear, it is simple SPF & Water. Chances are you'll be outside all day, and the quickest way to ruin a trip is enduring too much of Vail's strong sun without protection (take it from us, we've had a goggle burn or two). It's also easy to overlook how much you are sweating in the warmer temps, because each quick rip down the hill will cool you off. But we've seen it time and time again, dehydration up at altitude will leave you fatigued and calling it an early night.
Uniquely Vail:
There are some "can't miss" springtime favorites at Vail Mountain – but they require a little knowhow and planning.
BBQ in Blue Sky Basin: Blue Sky Basin is THE SCENE in the warmer weather. You'll find locals stuffing their packs full of hamburgers, hot dogs, tri tip and more so they can prepare a feast on the self-service grills. It's not uncommon to see table cloths covered in all the fixings during this spring-long BYO jubilee.
Après Après Après: Vail is known for its abundance of decks, live music and après spirit. The Vail Après Spring Series connects mountain to village with live music, and locals will park it almost anywhere to enjoy a beverage. Once you're back in town, there are endless options to celebrate the ski day. Some of our favorites include the deck at Garfinkles, the back patio at Vendetta's, the raised patio at El Segundo, and a beer outside at Vail Brewing Company. You really can't go wrong.
No matter how you shake it, Spring Skiing in Vail can't be missed. And this season? Spring Skiing just got a little bit longer – because Vail Mountain is staying open for its longest season in history… until May 1st! See you out there!