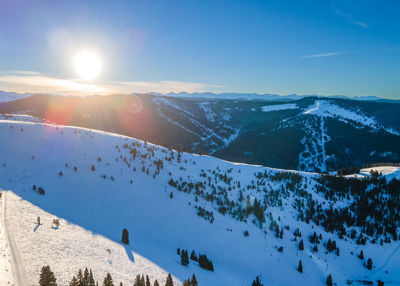 April is a great time to visit Vail, Colorado, as the winter ski season comes to a close and the spring season begins. With the snow starting to melt and the weather warming up, there are plenty of fun activities to enjoy in and around Vail. Here are six things to do in Vail, Colorado in April:

1. Skiing & Riding: Although the ski season is winding down, there are still plenty of opportunities to hit the slopes in Vail. April often brings sunny days and warmer temperatures, making it a great time for spring skiing. Sleep in and let the sun warm up the snow before heading out to the slopes!
2. Snowshoeing: As the snow begins to melt, snowshoeing becomes a popular activity in Vail. Explore a scenic backcountry tour with Vail Mountain's Nordic School and take in the beautiful mountain views.
3. Spa Day: After a few long days of outdoor activities, treat yourself to a spa day at one of Vail's luxurious spas at The Arrabelle or The Lodge at Vail. Relax with a massage, facial, or other treatments designed to rejuvenate and refresh.
4. Fishing: April marks the start of the fishing season in Vail, with the rivers and streams coming to life with the warmer temperatures. Guided trips through Gore Creek Fly Fisherman are available for both beginners and experienced anglers, with the opportunity to catch trout and other local fish.
5. Taste of Vail: The Taste of Vail is a food and wine festival held in April, where visitors can sample some of the best food and wine from Vail and around the world. The festival includes a range of events, wine tastings, culinary demonstrations, and more.
6. Cultural Events: April brings a variety of cultural events to Vail, including live music, art exhibitions, and theater performances. Check the local events calendar to see what's happening during your visit.
Vail, Colorado is a great destination to visit in April, offering a wide variety of activities to enjoy in the beautiful mountain surroundings, blue skies and longer days. Whether you're looking for outdoor adventure, cultural events, or just a relaxing getaway, Vail has something for your perfect spring getaway.