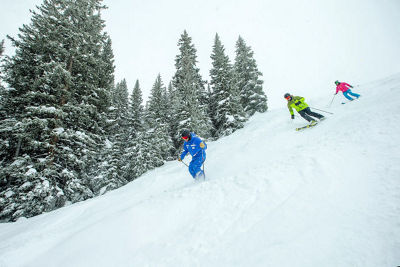 Are you dreaming of leveling up your mountain game? Whether you want to go from greens to blues, blues to blacks, groomers to moguls, and more, your best bet is to find the area here at Vail that is right for you. The instructors at Ski & Snowboard School are called "world-class" for a reason. They are the experts of finding perfect learning areas unique to each guest!
Bring your whole family to any of our Family Learning Zones and find plenty of opportunities to practice skills and get comfortable with different mountain elements that will translate to the rest of the runs here. Progression takes time, and our Ski & Snowboard School instructors can show you the best way to use these resources to level up quickly. If you're learning on your own, most people slowly progress from the Sourdough Express greens to frontside groomers in Northwoods or Avanti. BUT with an instructor, they can show you mellow groomed runs like Poppyfields in
China Bowl
to try out what you've learned in our Legendary Back Bowls.
For our more intermediate and advanced guests: You may not feel like you need a lesson since you already know how to ski or snowboard. If you are looking to build your confidence on harder runs and have an incredible adventure,
Ski & Snowboard School
is the place for you. Once you know the basics, they become your best, most knowledgeable tour guides. Progression over a few days together can look like perfecting a new skill, finding your best first-time black diamond run, and then seeing views and exploring terrain you've never seen before.
You most definitely have a champion skier or snowboarder inside of you, even if they live only in your wildest dreams. Make that dream a reality by polishing your skills and leveling up, while having a blast discovering more of the 5,317 acres Vail has to offer.