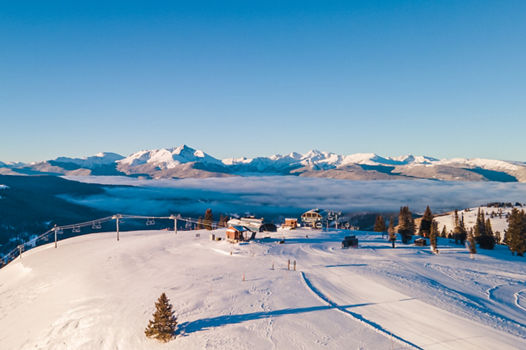 Last year, China Bowl earned the top spot from our social media viewers as their favorite place to ski and ride. It got a lot of you asking, "What makes China Bowl so special?" And there's a lot of answers to this question. Some say it's the mellow groomers, some say it's the long meandering glades, some say it's the hidden route to the Back Bowls… But what we know? There's no wrong reason to love China Bowl.
China Bowl got its name from the tall limestone headwall prominently featured at looker's right at the top of the bowl. Giving off a "Great Wall" feeling, the bowl was added to Vail Mountain's terrain in 1988, nearly doubling Vail's acreage. China Bowl's terrain is steep along the western side, with rock formations taking center stage, giving way to mellow powder fields and tree skiing as the bowl progresses west.
Let's talk about why so many locals love China Bowl – off-the-beaten-path access from the front side. If you're looking to avoid the hustle and bustle of Gondola One, head over to Golden Peak and take Riva Bahn Express Lift (Chair 6) to Highline Express Lift (Chair 10). A little skate or a lift up Sourdough Express (Chair 14) will put you right at China Bowl. It's a quieter route up to the Legendary Back Bowls, beloved by those in-the-know.
What it really comes down to, though, is terrain – and China Bowl has a LOT of it. For intermediate skiers looking to explore the Back Bowls, Poppy Fields should be your first entry point. Its mellow pitch is often groomed and lap-able all day long. China Bowl has other groomed runs as you build your confidence.
Did you hit China Bowl on a powder day? Then you'll see plenty of expert skiers and riders taking flight on Dragon's Teeth – the rock outcroppings that take center stage in the middle of the bowl. You'll also see expert skiers on Ghengis, one of China Bowl's steepest pitches. Because of the prominent wind direction, Ghengis typically has a cornice and it holds windblown snow, making conditions perpetually righteous. This also means patrol often times has a lot of snow control work after wind and snow events to make sure China Bowl is accessible.
Finally, trees. All the way to the east you'll find Shangri-La a nearly endless tree run with limitless paths down the bowl. Shanri-La is nirvana on a powder day, and seems to hold powder stashes days after a storm.
There's no wrong reason to love China Bowl, some of Vail's most beloved Legendary Terrain.