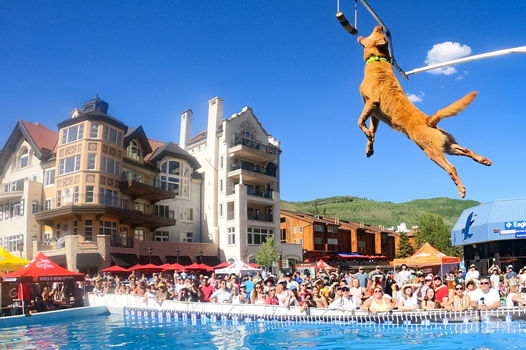 Vail, Colo., Date, 2022 – It seems like just yesterday we were celebrating the end of a record-setting winter season in Vail, but summer in the Rocky Mountains is already right around the corner. The snow-covered mountains we all love to explore on skis and snowboards in the winter quickly transition to a massive summer playground with so much room for activities, including hiking, mountain biking, kayaking and more that attract families and friends to Vail.
The annual GoPro Mountain Games serve as a signal – rather a beacon – that summer has arrived here in Colorado. The Mountain Games are the country's most celebrated festival of adventure sports, art and music celebrating 20 years this summer, June 7-12.
Looking to shake some rust off and compete for over $130,000 in prize money – in addition to some serious bragging rights? The GoPro Mountain Games feature over 30 competitions for both pros and first-timers, including biking, fishing, running, rafting, disc golf, climbing, kayaking, stand-up paddleboarding and … DockDogs. Register to compete at
summer.mountaingames.com
.
Looking to simply enjoy a relaxing weekend in the mountains and soak up the summer sun? The Mountain Games are free to spectate, with the event spanning across the beautiful villages of Vail. From Dog Town in Lionshead to the new Hangout in Golden Peak, as well as concerts at the Gerald R. Ford Amphitheater, your step-count depends on how often you stop and stare at everything happening at the Mountain Games.
Looking for live music? The
Mountains of Music concert series
features live music throughout the day as well as concerts at The Amp Thursday, Friday and Saturday nights (June 9-11). While the day-time music is free to see, tickets are $25 to concerts at The Amp, including Twiddle, Mihali & G. Love on Thursday (June 9); Gov't Mule, Warren Haynes & Grace Potter on Friday night (June 10); and The Wailers featuring Julian Marley and Mishka on Saturday (June 11).
Looking for some sweet new gear? Over 100 sponsor tents line the streets with best of the best for adventure athletes.
New this year, The
Hangout at Golden Peak
will be the place to be and the place to be seen. Sit back and relax while listening to live music and enjoying some food and beverages, or a friendly conversation with friends and athletes. The new Hangout is home to Jam in the Van, daily face painting with Abby Wren and much more. The 20th anniversary T-Shirts will also be available only at The Hangout.
Looking to get in on the action without the stress of competing? The new Take a Hike for YouthPower365 event is a hike you can feel extra good about. Anyone can participate in the fundraising hike that supports YouthPower365's mission to inspire, educate and empower Eagle County youth and families from early childhood to college and career readiness. Sign up at
summer.mountaingames.com/takeahike
.
Looking for a new best friend?
Adoptable dogs
will be at the GoPro Mountain games, along with dog-friendly activations throughout the week.
Start summer off right and start new traditions at the GoPro Mountain Games, June 7-12.
For more,
visit mountaingames.com.