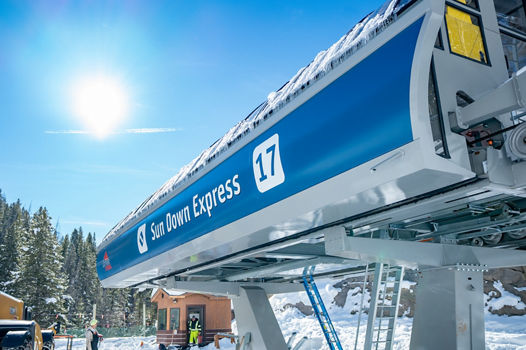 This week we opened Sun Down Bowl, which means that Vail Mountain is pretty much fully open! With the exception of Skree Field (this terrain still needs a little more TLC from Vail Ski Patrol) - the front side, the Seven Legendary Back Bowls, Game Creek Bowl and Blue Sky Basin are OPEN for you to ski and ride.

What's next? Leitner-Poma has been on-site with our Vail Mountain team to bring you our NEWEST chairlift – Sun Down Express (#17). With the haul rope and communications cables hoisted up on the towers, Sun Down Bowl is open and we're rounding the final stretch for the lift's completion.

Over the next two weeks, we have a clear plan to get this lift spinning for you. This week we'll be launching the chairs, fine adjusting the terminals and testing our electrical startup. Believe it or not, it takes several days to string the chairs, so guests will slowly start to see this chairlift come to life.

Once the chairs are strung and the terminal adjustments are completed, the schedule calls for a few days of fine tuning. We'll start to run the chairlift to get some hours on the equipment and make sure everything is working as expected. This process should all occur between January 14-17.

The final step is called the Acceptance Test, with perhaps the most exciting portion being the Load Test. During the Load Test we place 55-gallon containers of water on the chairs to simulate the weight of passengers on a fully loaded chairlift line. We also run the chairlift to its limits – making sure everything works appropriately and it can handle a lift line full of passengers. The Acceptance Test generally takes two to three days to complete, and we may have to limit some access to Sun Down Bowl for your safety (because we don't want anyone skiing or riding under a 55-gallon container of water when we're running the test).

So, when will you get your turn on the NEW Sun Down Express (#17)? We're hopeful that you'll be riding this new chairlift between January 21-23. If everything goes to plan and we don't experience any unforeseen delays or weather challenges, you'll be lapping Sun Down Bowl like never before.

Once the lift is open, we'll continue to fine tune the equipment. If you've noticed, we've made some adjustments to the NEW Game Creek Express (#7). We've tweaked the terminals and made adjustments to the top terminal ramp so you have a smoother experience offloading the lift. As we see how you ride the new Sun Down Express (#17) you can expect us to spend time observing and fine tuning this lift, as well.

Before you know it, instead of having to take High Noon Express (#5) to Wildwood Express (#3) to lap Sun Down Bowl's massive terrain, you'll have Sun Down Express (#17) to make your powder day experience so much better. For those of you looking to return from Blue Sky Basin or our eastern most Back Bowls – the new Sun Down Express (#17) will whisk you back to Lionshead quicker than ever.

We can't wait for you to ride our newest addition!