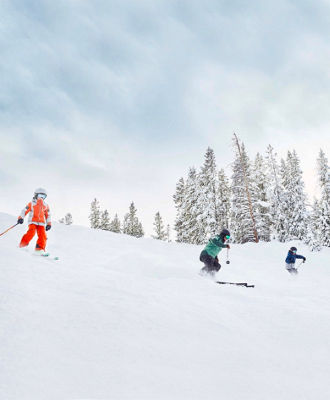 Skiers and snowboarders come from all over the world to experience Vail's legendary terrain, but in order to fully enjoy it, visitors must be prepared for the high alpine environment. That's right, we're talking about the elevation. At 8,150 feet above sea level at the base of the mountain, and over 11,000 at the top, even the strongest of skiers can be affected by the high elevation here at Vail Mountain. So, how does one prepare to experience legendary terrain and altitude? For those preparing for high-elevation activities in Vail, we've compiled four simple steps to help you get ready for skiing at higher altitudes: start with a warm-up, stay hydrated, take breaks to rest and refuel, and don't forget to cover up!
4 tips to prepare for high-elevation activities in Vail
Warm Up
If you've experienced Vail's 5,317 acres of incredible terrain before, you'll know what to expect, but you might have forgotten what the first day on hill feels like for your legs! Whether you've been snowboarding for years or are new to the sport, a simple morning warm up before hitting the slopes is a must. Start by focusing on your calves and quads, and then move on to what feels best for you.
Drink Up
The best way to adjust to altitude is to stay hydrated. Now, if you're visiting from sea level, staying hydrated will look a bit different. While on the mountain, drinking twice as much water or Gatorade as you would at home is a great place to start, and pre-hydrating before you get out on the hill, is even better. It is important to be aware of the symptoms of altitude sickness and dehydration, if you begin to feel any of the below while on the slopes or in the villages, stop into one of our lodges. We offer complimentary cups of water and Gatorade and bottled water for purchase.
Dizziness
Fatigue
Headache
Shortness of breath
Lack of perspiration
Nausea
Rest (and Fuel) Up
Skiing and snowboarding require a lot of energy, so just as you would before going on a long run or a bike ride, be sure to get a good night's sleep and eat a hearty, healthy breakfast. While on the mountain make sure to take breaks in one of the many lodges and keep a few pocket snacks on you for chairlift re-fuels. Fatigue comes on quickly and easily at elevation so it is important to stay tuned into what your body needs. Lastly, we all love a good après, but alcohol decreases blood oxygen and you need all of the oxygen you can get in a high altitude environment so keep it light and be sure to hydrate (with water)!
Cover Up
Proper sun protection cannot be overstated in a high alpine environment. The combination of elevation and the reflectiveness of snow means that the sun's rays are incredibly strong. So strong in fact that with every 1,000 feet increase in elevation, UV exposure increases by 6-10%. That means that skiers and snowboarders are far more susceptible to sunburns, so this last tip is to cover up with sunscreen and protective layers. Apply sunscreen before you go out on the mountain (especially on your face, unless you're going for a goggle tan) and reapply throughout the day, ideally every two hours.
That's it! Follow these four tips to ensure you're at your best while adventuring at altitude.