Winter 22/23
VAIL NORDIC SCHOOL
Specializing in Backcountry Tours and Adventures
We look forward to welcoming you back for lessons and tours where we will provide a safe and fun experience that will help take your skills to the next level.
This season (Winter 22/23) we will be offering private lessons (max group size of 6) and group tours (max group size of 6). While being transported with us, you may be required to wear masks in the vehicles based on local county and company polices. If your group is bigger than 6 you will need to book a second private.
We offer all our products: Snowshoe, Cross-Country, and Backcountry ski tours for all levels. Come explore the wilderness around Vail on one of our private tours. We also offer Telemark on Vail Mountain. Explore a side of Vail you've never seen before. We can take children as young as 5 on our private tours, but note you will need appropriate car seats to put in our vehicles.
To book your private tour call 970-754-4390. Note tours are based on availability.
NOTE: all group tours are limited to 6 guests and are first come first served.
Professionally Guided Tours: Sign up for one of our many private tours and have a guide show you some of the wilderness trails surrounding Vail while giving you a different perspective on techniques and your surroundings.

Flora and Fauna: Whether you go with a guide or with family and friends, Nordic activities help you slow down and observe so much more of the beautiful trees and winter wildlife that's all around you in the Rocky Mountains.

Unparalleled Vistas: Venturing into the wilderness and backcountry around Vail is the greatest reward when you're participating in any Nordic sport.
Vail Nordic School operates under special use permit with the White River National Forest.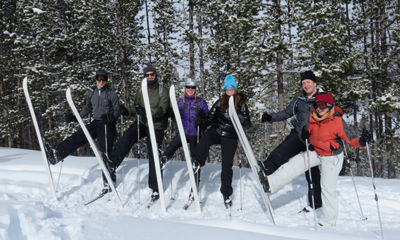 HISTORY OF NORDIC SPORTS
Long before it was a sport, cross-country skiing was a necessity of daily life as a form of transportation from Scandinavia to Siberia.
It evolved into a sport sometime in the late 18th century, once more reliable forms of transportation were developed.
Cross-country skiing hit the big times when it was featured in the 1988 Olympics, though many people have been practicing the recreational form (also known as touring) for a couple of centuries.
Over the past few decades the genre evolved, and now, Nordic sports also include Telemark skiing, snowshoeing, AT touring and splitboarding.
If you thought downhill skiing or snowboarding kept you in great shape, try a day on a pair of cross-country skis and you'll understand why these athletes are so unbelievably fit.
This is because Nordic skiing uses virtually every muscle in your body to propel you forward.
In fact, many experts recommend that you spend time strength conditioning before you begin cross-country skiing as a serious hobby.
Because Nordic skiing uses both the "push" and "pull" muscles on both your upper and lower body and uses your core to keep you stabilized, there is virtually no other sport on earth quite as effective at keeping you in peak physical health and helping you burn calories.
In fact, cross-country skiing burns more calories per hour than any other sport or exercise, maxing out at nearly 1,100 calories per hour.