1962-2022
Celebrating 60 Years
The Time to Celebrate is Always
We are like nothing on Earth. When you're here, you're a part of something special and this year, we could not be more excited to celebrate 60 years with you. That means returning to our roots while celebrating the present and dreaming of the future. Scroll down to everything coming to the mountain, the village and everywhere in-between to make this 60th season legendary.
Sixty Years Young with an energy and excitement that never goes out of style.
Gray Malin
's new aerial fine art photography, shot from a doorless helicopter, is the beginning of something legendary.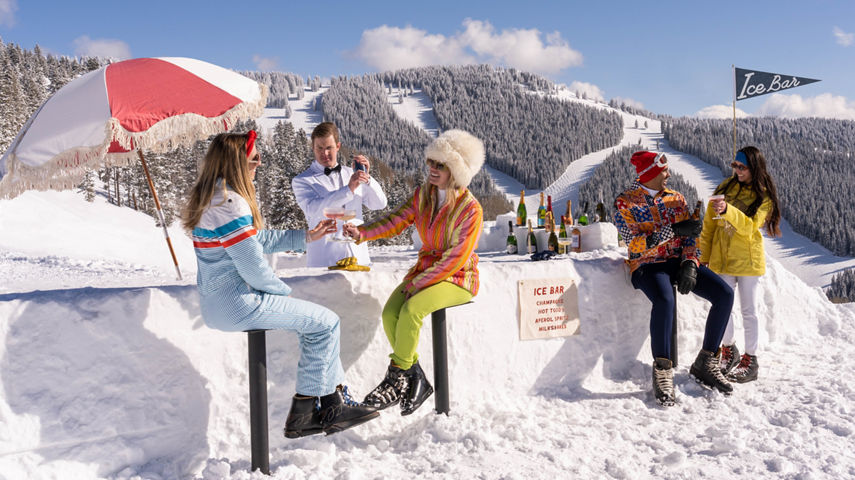 The photo featured is a sneak peak of the vintage lifestyle collection released on January 17th, 2023. Visit Bistro 14 at the top of Eagle Bahn Gondola (#19) to experience the on-mountain art gallery or click below to view the full vintage collection.
Take Vail with you, no matter what slopes you are on! These Gray Malin custom Icelantic Skis feature Vail's iconic Back Bowls Corbel from Gray's aerial collection.
These Icelantic Nomad 105s are available at Vail Sports 21 in Lionshead Village and One Vail Place in Vail Village.
Limited quantities available. Click below to view store contact information.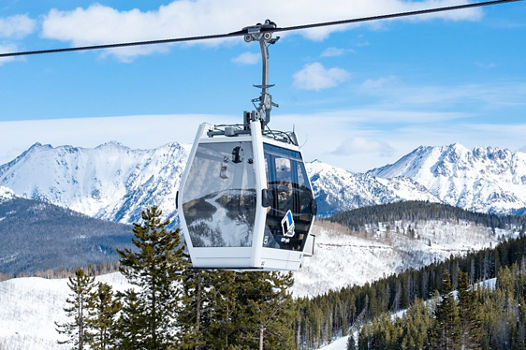 Gondola Cabin
A monument to 60 years of legendary experiences: the Vail 60th Gondola Cabin is a discrete matte white with an image of the original Gondola Cabin on the side in addition to the vintage logo denoting our first year of operations, 1962. Try your luck and you might find yourself riding up on our newest gondola cabin. Cheers to 60 years!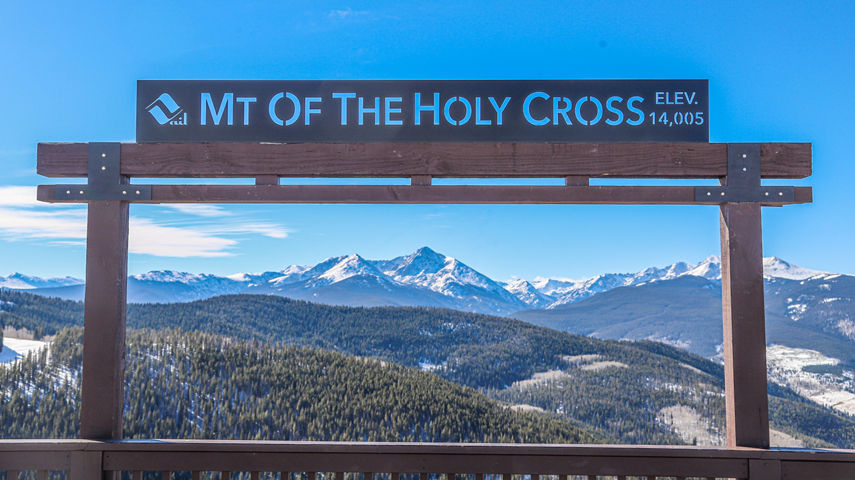 Holy Cross Corbel
Vail Mountain's newest photo location at the top of Eagle Bahn Gondola (#19). This newly constructed corbel denotes one of the area's most famous peaks, The Mount of The Holy Cross. Stop by, snap a photo and take in the views for yourself.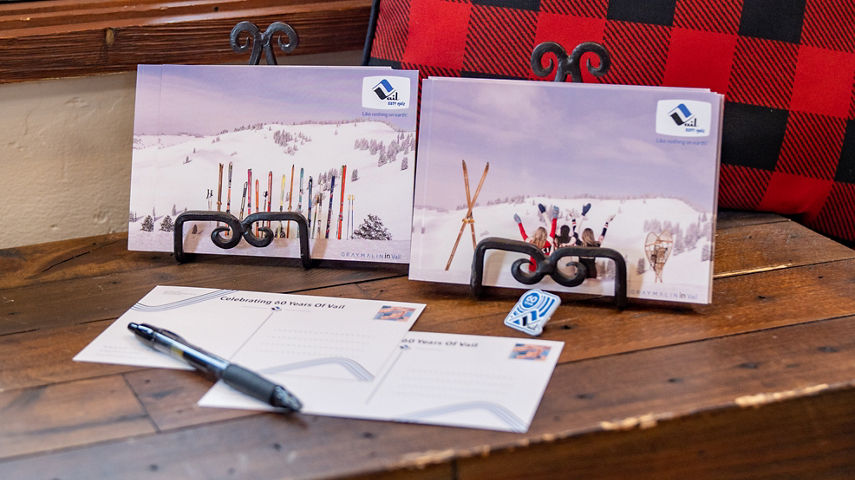 Vail Mail
Visit the Legacy Hut at the summit of Mountain Top Express (#4). Our friendly greeters and guest services team are passing out Vintage Vail postcards, ready to send out of the hand. Head over to the Legacy Hut, write and address your postcard and drop it in the mailbox by the entrance of the Legacy Hut. Our team will take care of the rest and have your Vail Mail Postcard delivered.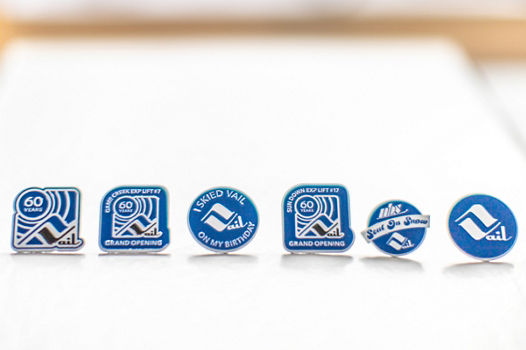 60th Pins
A token of your experiences at Vail. A pin for every celebration! Can you manage to collect them all during our 60th season. Keep an eye out for pin drops around the mountain!
Vintage Mural
Based on a real billboard painted in 1962, this newly installed mural is the ideal photo location to celebrate 60 years of Vail. Located at top of Wildwood Express Lift (#3). Stop by to capture and create your own Vail memories!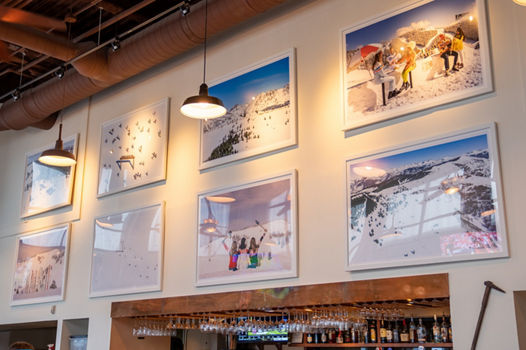 Art Gallery @ Bistro 14
Head to the top of Eagle Bahn Gondola (#19) to check out our newest on-mountain art gallery, featuring art from both the Aerial and Vintage collection by
Gray Malin
.
Not to mention bistro style cuisine and a full service bar. Click below to view hours of operation.
View Hours
Art Gallery @ Bistro 14 , opens in a new window
Vail 60th Anniversary
We've partnered with local favorite 10th Mountain Whiskey & Spirits to create a 60th Anniversary Limited Edition Rye Whiskey, hand selected by Vail Mountain leaders across our mountain, hospitality and dining teams.
Participating Locations:
Bistro 14
The 10th
Wildwood Ice Bar
Eagle's Nest Ice Bar
The Lodge at Vail
The Arrabelle
Vail 60th
Epic Lift Upgrades
Game Creek Express Lift (#7) - Now Open
The new Game Creek Express #7 is the replacement of the old 4-person chair with a new high-speed 6-person lift increasing capacity by nearly 50% and improving reliability in this popular bowl.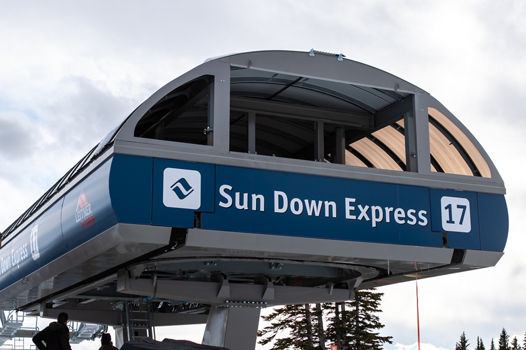 Sun Down Express Lift (#17)
The installation of a new high-speed 4-person chair in the Sun Down Bowl from the base of Chair 5 (High Noon Express) to the Wildwood restaurant will materially reduce wait times on peak days at Chair 5 and create the opportunity for skiers and riders to much more conveniently access the trails in Sun Down Bowl.
From Small Town to World-Renowned
Follow the story of hard work and dedication that went into Vail as told by the founders themselves, starting with the early years and leading up to the present.
Vail's History

Vail's History
Celebrating then, now and forever
Vail 60 Events
Feb. 7th, 2023 | National Brotherhood of Skiers
Join us on February 7th, 2023 to celebrate 50 years of Snow on Soul with the National Brotherhood of Skiers featuring, Ne-Yo, DJ Logic and Mix Master Mike. Entertainment begins at 6PM in the Golden Peak Base Area, just below Gopher Hill Lift (#12).
Stay tuned for more Vail 60 experiences, coming soon!