what to know about epic discovery
Previous tab
Previous tab
PLEASE NOTE ALL ACTIVITIES REQUIRE ENCLOSED TOE & HEAL FOOTWEAR
Some of our activities have age/height/weight restrictions. Refer to the chart below for details on each activity.
ACTIVITY
HEIGHT
WEIGHT
AGE
OTHER REQUIREMENTS

Forest Flyer Mountain Coaster

38" (passenger)
54" (driver)
Combined 330 lbs. (passenger + driver)
3+ (passenger)
16+ (driver)


Securely enclosed footwear

No loose clothes or personal items

Paramount Peak Climbing Wall
36"
30-330 lbs.
4+
Securely enclosed footwear/proper harness
Little Eagle Kids Zipline


N/A
30-100 lbs.
3+
Securely enclosed footwear/proper harness
Eagle's Next Tubing

54"
N/A
N/A
Securely enclosed footwear
Marmot Mini Kids Tubing

N/A
30-100 lbs.
3+
Securely enclosed footwear
Bungee Trampoline
N/A
30-180 lbs.
3+
Securely enclosed footwear/proper harness
Where to pick up your ticket?
Pickup your Epic Discovery Activity Tickets at the Lionshead Ticket Office!
Adequate Clothing: Be aware, mountain weather changes quickly and there is usually at least a 10-degree temperature difference from the bottom to the top of the lifts. Bring a raincoat and consider a sweater or fleece layer. Fully enclosed footwear (no heel straps) are required for all activities. Wear comfortable, sturdy shoes, such as hiking boots or tennis shoes. Hair ties are suggested for shoulder length hair or longer.
Sun Protection: At 10,000 feet, exposure to the sun is 40% greater than it is at sea level. We recommend sunscreen with a sun protection factor of 15 or higher, as well as eye protection.
Lightning and Thunderstorms: Afternoon thunderstorms are common in the mountains and may cause interruptions and delays in summer activities and lift operations. Lifts and activities may close on occasion due to weather conditions, causing delays. Take proper precautions when you see or hear a storm developing: seek shelter, keep off ridgelines, and stay clear of chairlift houses, lift towers, power lines, open spaces, lone trees, and signposts.
High-Altitude Environment: If you live at a lower elevation, you may tire more easily. Take it easy at first, plan short trips until you are acclimated and drink plenty of water. Some visitors may experience symptoms associated with Vail's high altitude. Symptoms may include headaches, nausea, and dizziness, loss of appetite, restless sleep, coughing and difficulty in breathing. If symptoms persist or if you have a concern about your health, you should seek medical attention.
Liability: In order to participate in any activity on Vail Mountain, a liability waiver must be filled out. For anyone under the age of 18, a parent or legal guardian must fill out a liability waiver. You can print out a liability and fill it out in advance by clicking here.
Health and Safety Guidelines: Most activities have height, weight, and age requirements, please refer to each activity section to understand any restrictions that may apply. If you are pregnant or have heart, back/neck, or other serious health issues, you should consult a physician prior to participating in any activity. Most activities require guests to be ambulatory and be able walk on their own. Trained service animals are welcome in most locations on Vail Mountain. Although trained service animals are welcome, guests who use service animals must retain control of their animals at all times and should keep them on a leash or harness while visiting. Documenting your vacation is always encouraged; check out our EpicMix Photos upon arrival, however Selfie Sticks are prohibited on our activities.
ADA Statement: All Adventure Ridge activities have equipment and safety systems in place per the activity manufacturer based on guests of average height and weight. Guests who have the certain conditions such as heart, back/neck conditions, pregnant women, guests who have had recent surgery or guests with casts, braces, restrictive devices, certain disabilities, or other impairments are prohibited from participating in Adventure Ridge activities. Certain reasonable accommodations can be made as staffing allows and will be at Management's discretion for participants as long as they meet all of the Participation Requirements for the activity. Participants will be asked to demonstrate the required abilities of the Participation Requirements as well as the willingness to follow all instructions from Adventure Ridge staff. If a guest is uncertain or concerned about their health or pre-existing condition, they should abstain from participating in an activity.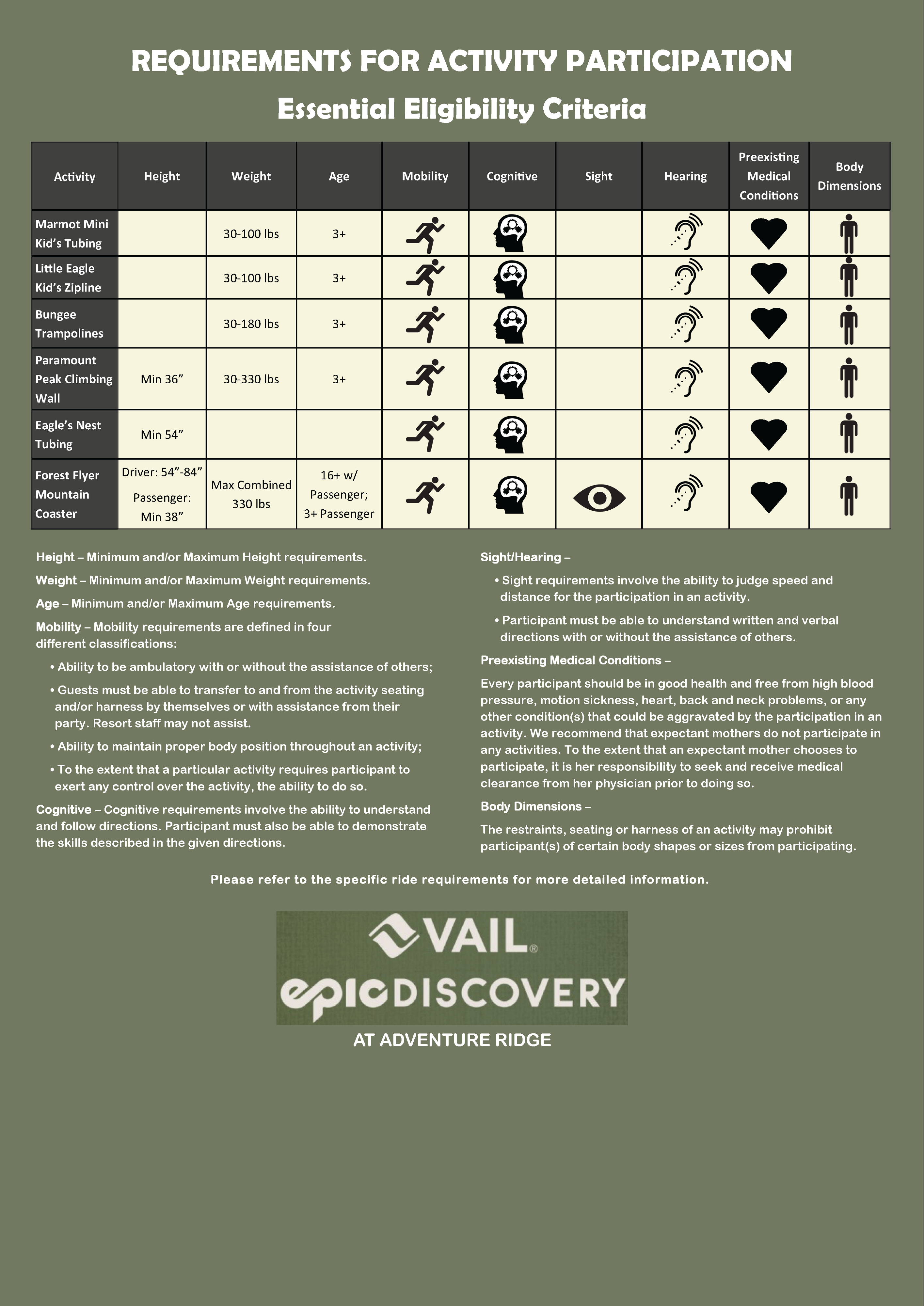 All lift tickets and activities are non-transferable. Lift and activity packages are non-refundable once activated, but may be exchanged for alternate products or cancelled prior to use. Additional days and activities purchased at the ticket window will be charged the window rate. Lift ticket and activity prices are subject to change at any time without notice. Any adjustments made at the resort are based on the window rate at the resort on the day of adjustment. Lift and activity passes may be picked up at either the Vail Village or Lionshead ticket offices on the date of use.