EARN 10% COMMISSION ON ADVENTURE PASSES
NEW! VAIL MOUNTAIN EPIC DISCOVERY Incentive Program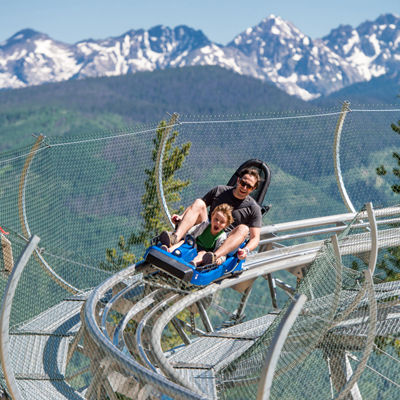 New! earn 10% commission on adventure passes!
New Summer 2018 Vail Mountain is rolling out a commission based incentive program for the Vail Valley. Referrers will earn 10% commission on revenue booked through the Mountain Information Center Concierge Line (754-2000) on specific products.
Incentivized Products:
Adventure Passes (54"+)
Adventure Passes (under 54")
Referrer Booking Process
Program eligible to any non-Vail Resorts employee with the exception of O&O Lodging properties.
Program not eligible to on-mountain employees.
1. Referrer calls Vail Call Center: (970)754-2000
2. Referrer identifies themselves (First name, Last name, Location)
3. Referrer identifies if this is a new reservation or change to an existing reservation
4. Referrer provides guest information and product information
Product Options: Adventure Passes 54"+ and Adventure Pass Under 54"
Head of Household name, DOB, address, email, phone, gender
All participants name, DOB, gender
Credit card information – number, CVV, expiration, and zip code
Card will not be charged until guest visits ticket office
Fulfillment Specifications
Every 2 weeks an AMEX payout will be available at the Mountain Information Center (MIC - in Lionshead next to Starbucks) if threshold has been reached:
Reporting periods, every 2 weeks, based upon date of activity and final collection of revenue
Bookings will round up/down to nearest $25 increment in commission ($12.50 breaking point)

Ie: $280 booked = $28 commission, but with cash-cards in $25 increments, recipient will be rounded down to $25 payout. Conversely, $470 booked = $47 commission, recipient will be rounded up to $50
Commission Pick Up Information
Referrer must have a W9 on file prior to any pick up at MIC and email filled out form to kengerman@vailresorts.com. If you have not submitted your W9 in advance, you will not be able to pick up your commission at MIC and MIC will not have a W9 for you to fill out.
Prior to pick up date, On pick up date, concierge who have commission will receive an email notifying them. If you do not receive and email then you do not have commission available for this reporting period
Referrer to pick up AMEX cash-cards between 9am - 4:30pm at MIC (601 E. Lionshead Circle, Vail)
Envelope for each referrer includes contact info should questions come up
Referrer must verify identity with photo ID, and sign receipt-form confirming receipt of AMEX gift cards
| REPORTING PERIOD | COMMISSION PICK UP AVAILABLE |
| --- | --- |
| JUNE 15 - JULY 6 | JULY 14 |
| JULY 7 - JULY 20 | JULY 28 |
| JULY 21 - AUGUST 3 | AUGUST 11 |
| AUGUST 4 - AUGUST 17 | AUGUST 25 |
| AUGUST 18 - AUGUST 31 | SEPTEMBER 8 |
| SEPTEMBER 1 - SEPTEMBER 14 | SEPTEMBER 22 |
| SEPTEMBER 15 - SEPTEMBER 30 | OCTOBER 6 |